Convicted murderer Joseph Wood was injected with 15 doses of a combination of lethal drugs throughout his two-hour long execution, the Arizona Capitol Times reports.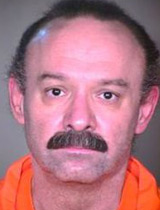 Joseph Wood was convicted in a Tucson 1989 double murder.
Wood's attorney, Dale Baich, said the Arizona Department of Corrections violated the state's execution protocol, because the policy only allows for a second dose if the inmate is still conscious after three minutes, the Times said.
Wood's was given the first dose at 1:52 p.m. on July 23, and by 2:30 p.m., he had been given his fourth dose. The 15th dose came three minutes before he was pronounced dead at 3:49 p.m., according to the injection logs obtained by the Times.
Gov. Jan Brewer ordered a review to the state's execution process after testimonies of Wood "gasping" and "snorting" for air before dying two hours into the process. Last week, the Department of Corrections announced it was searching for an independent party to conduct this investigation.
Wood's lawyers have called the execution "botched," while the corrections department and Brewer have said Wood did not suffer.
Wood was convicted in the 1989 Tucson murders of his former girlfriend, Debbie Dietz, and her father, Eugene Dietz.
He appealed his execution, but ultimately the Arizona Supreme Court lifted all restrictions merely hours before the execution was scheduled to take place.