Flags in the state's Capitol will be lowered to half-staff for about one week in honor of the state lawmaker who passed away Monday.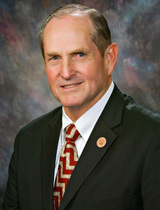 State Sen. Chester Crandell, R-Heber.
Sen. Chester Crandell of Heber had gone out horseback riding, and was found at a ranch in eastern Arizona a few hours later dead from an apparent riding accident, according to Navajo County officials.
"I am deeply saddened to learn of the tragic and sudden passing of state Sen. Chester Crandell," Gov. Jan Brewer said in a statement. A fifth-generation native of Arizona, avid rancher, legislator and above all - a gentleman with a tangible love for Arizona and those he served, Chester will be greatly missed."
Brewer has ordered flags to be lowered to half-staff from sunrise today until sunset Aug. 11, the release said.
Crandell, a Republican, had served in the Arizona Senate representing Legislative District 6 since January 2013. Previously, he had served two years in the state House.
He is survived by his wife, Alice, nine children and 36 grandchildren.
The Associated Press contributed to this report.