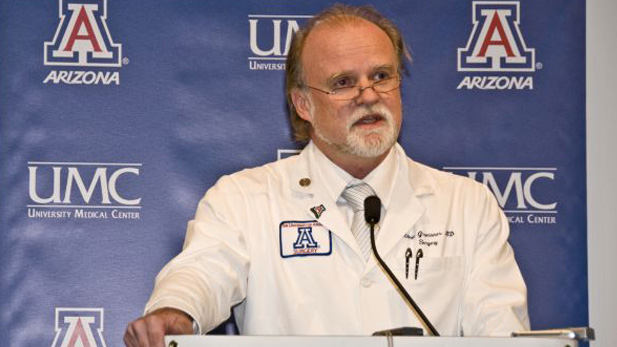 PHOTO: UA News
Listen:
Rainer Gruessner was suspended and then fired as head of the surgery department at University of Arizona Medical Center for altering transplant records, hospital officials testified Tuesday.
Gruessner's lawyer argued in the alternative that he made the changes because of inaccuracies in the original records.
The dispute led University Physicians Healthcare, which oversees UAMC, to hold a public hearing Tuesday over Gruessner's ouster last year. The hearing before a three-member panel of physicians from outside Arizona was ordered by a judge handling the surgeon's multi-million-dollar lawsuit against UAMC.
UAMC lawyer Amy Gittler said Gruessner changed the records to list himself as primary surgeon on 25 transplants rather than the 10 listed in the original records.
Gruessner's lawyer, Kraig Marton, responded that, initially, the number of transplants had been incorrectly recorded, and the surgeon made changes to accurately reflect his department's work.
Marton urged the panel of physicians to judge Gruessner as they themselves would wish to be judged, saying he was confident they would vindicate him.
Gruessner has said his ouster was retaliation for his expressing misgivings about the leadership of the former dean of the UA College of Medicine, Steven Goldschmid.
Gruessner, a transplant surgeon who joined the UA in 2007, was placed on administrative leave with pay in September after an accusation that he altered liver transplant records. He received notice of termination in December.
The panel has 10 days to issue its recommendation to the UPH board, which will have the final say.