Former Mesa Mayor Scott Smith has scheduled an event with Gov. Jan Brewer for Thursday where the governor is expected to endorse her fellow Republican in the governor's race primary.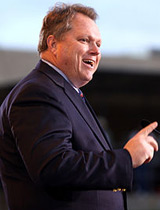 Scott Smith
A source close to Smith campaign on Wednesday confirmed the planned endorsement to The Associated Press. The person spoke on condition of anonymity because they weren't authorized to confirm it on the record prior to the event.
The event at the Cubs Park in Mesa is touted as a "special event" with Brewer and Smith supporters.
Brewer's spokesman wouldn't confirm the endorsement.
Brewer's endorsement has been highly sought-after by several of the six Republicans seeking the GOP nomination in the Aug. 26 primary election. Smith, state Treasurer Doug Ducey and former Internet executive Christine Jones are widely considered the front-runners.