Listen:
Republican candidates in the primary race for Arizona House Legislative District 11 are focusing on education, taxes and land use.
The district, which encompasses parts of northern Pima County, including Oro Valley and Marana, and portions of Pinal County, including Saddlebrook and Maricopa, is currently represented by Republicans Adam Kwasman and Steve Smith. Kwasman is now running for Congress, while Smith is vying to become a state senator.
Mark Finchem.
Two of the three Republicans competing for the vacant seats are relatively newcomers to state politics.
Realtor Mark Finchem is running on the same ticket as Vince Leach, a retired businessman. Jo Grant, however, spent 30 years as a staff member in the Arizona Legislature, and is a member of the Amphitheater School District governing board.
Grant said education is her top priority.
"I believe the number one investment the state can make is education," she said. She wants to see well-funded primary and secondary schools, career and technical schools and community colleges and universities.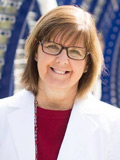 Jo Grant.
She said she's disappointed that legislators didn't follow a voter mandate to provide inflation funds to schools, and that the state will now need to make sacrifices to comply with an order to pay $317 million to its school system.
"This should have been done three years ago," she said. "And instead now, it's just compounded and compounded and the problem has gotten worse. They have spent all of this money on lawyers fees and court fees which could have gone into the classroom."
Finchem said be believes it's a misnomer to say the Legislature has to repay the inflation funds.
"It's the tax payers that pay it," he argued. "Because the Legislature has no money that the taxpayers don't give it."
Finchem said the state and federal government are too big and regulation is hindering economic development in the state.
"Sometimes the best thing the government can do is nothing. Stay out of the way," he said.
Finchem and Vince pointed out that around 19 percent of Arizona's land is in private hands. The two candidates would like the Arizona State Land Department and other government agencies to sell public lands to open the state industry.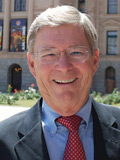 Vince Leach.
"We have forests, we have the forest industry that we could bring back," Leach said. "We had the federal government take out one million acres of land for mining. Arizona is blessed with resources and by the stroke of the pen they took all of that off the table."
Leach is an advocate for the mining industry, and said the proposed Rosemont mine near Tucson and the Resolution mine near Superior in Pinal County would bring needed jobs to the state.
Leach also supports the elimination of corporate income taxes.
"Taxes on business are a cost of doing business," he said. "And a cost of doing business is passed on to who? You and I. You can tax, tax, tax, and we've seen what the U.S. tax rate has done to our businesses. And they are fleeing to other parts of the world, taking their dollars with them in an effort to flee that tax. So I would not be for an increase, in fact I'd be for a reduction and elimination."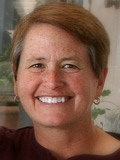 Holly Lyon
Finchem also thinks corporate income tax needs to go.
"I don't know of a single corporation that doesn't pass that tax onto the consumer," he said. "So lets be real about taxation, lets be transparent about taxation. Let's not hide the fact that we are levying a tax that ultimately the consumer pays for."
Grant disagreed, saying she thinks taxes on businesses are already low enough and that there's nowhere left to cut.
"I don't think taxes are the only things they look at. Again we're back to education. Businesses, they want to make sure that they can find employees that can come and work for them," she said.
The two candidates with the most votes will advance to the November general election, and will face off against Democrat Holly Lyon.