A seventh suspect in the killing of Border Patrol Agent Brian Terry has been charged.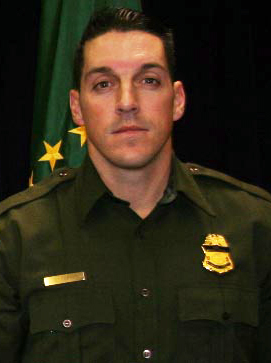 U.S. Border Patrol Agent Brian Terry.
Rosario Rafael Burboa Alvarez is set to appear in federal court Thursday in Tucson to face first-degree murder charges. He is already in custody, according to prosecutors.
Prosecutors argue he assembled an armed crew to steal marijuana from smugglers. Terry was fatally wounded in an encounter with that crew in the desert near Nogales, Mexico.
His slaying has been at the center of a scandal over a U.S. gun-smuggling probe known as Operation Fast and Furious. The operation was set up to track illegal purchases and sale of guns to Mexican drug cartels.
Another suspect, Ivan Soto-Barraza, was charged with the murder and extradited from Mexico to Tucson on Aug. 1, marking the second extradition for Terry's case in the past couple of months.
In June, Lionel Portillo-Meza faced federal court in Tucson, where he pleaded not-guilty to nine counts, including first and second-degree murder.
Manuel Osorio-Arellanes pleaded guilty to first-degree murder this year and was sentenced to 30 years.
Others prosecuted include Rito Orosio-Arellanes, who pleaded guilty to conspiracy to interfere with commerce by robbery in 2013 and was sentenced to eight years.
Burboa Alvarez was indicted Wednesday.
The Associated Press contributed to this report.