Veterans Affairs Secretary Robert McDonald announced the launch of an independent, nation-wide review of the agency's scheduling practices during a visit to the Phoenix VA hospital Friday.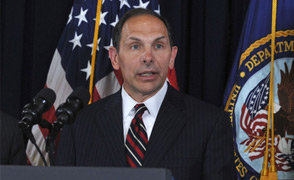 PHOTO: www.blogs.va.gov
Veterans Affairs Secretary Robert McDonald
After he met with veterans and employees at the Phoenix VA Health Care System, McDonald also ensured there will be additional actions to improve veterans' access to timely health care, a blog from the VA said.
"VA is committed to instilling integrity into our scheduling practices to deliver the timely care that veterans deserve," McDonald said in a statement. "It is important that our scheduling practices be reviewed by a respected, independent source to help restore trust in our system, and I'm grateful to the Joint Commission for taking on this critical task."
Reports that dozens of veterans died while waiting to see a doctor and that employees covered up long wait times at the Phoenix VA put the agency under a magnifying glass. The former VA secretary, Eric Shinseki, was forced to resign.
McDonald, a former Procter and Gamble CEO, has pledged to "transform" the agency. He has said improving patient access to health care is a priority, along with restoring transparency, accountability and integrity.
He rose to the position July 30.
The independent review is scheduled to start in the fall, the VA blog said.
The Associated Press contributed to this report.