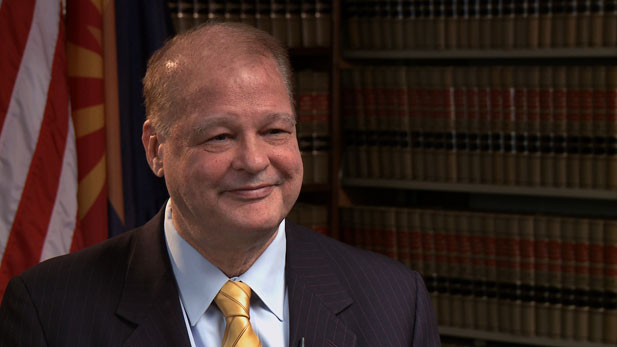 PHOTO: AZPM Staff
Arizona Attorney General Tom Horne.
Listen:
Attorney General Tom Horne, and 28 of his counterparts across the country, asked the Food and Drug Administration to impose the same restrictions on advertising of e-cigarettes as it does on traditional cigarettes.
In a joint letter, they also asked the FDA to ban flavored e-cigarettes, which have grown in popularity in recent years. The letter notes that the tobacco industry is "well aware that flavored tobacco products appeal to youth."
Horne signed onto the letter, although he said he believes more research on e-cigarettes long-term health affects is needed.
"I have issued an opinion saying e-cigarettes are not to be regulated as tobacco," Horne said. "They're not tobacco. Localities can chose to regulate them if they chose to but on a state level they're not subject to the same regulations as tobacco. And for some adults, e-cigarettes are a lot less dangerous than tobacco because tobacco has hundreds of dangerous products in it that are cancer-causing. I supported legislation to ban the sale to minors and I think we need to know more about it."
In April, the FDA opened a 75-day public comment period on proposals to give the agency authority over e-cigarettes, as well as cigars, pipes and hookahs. The attorneys general submitted their letter during that comment period, which ended last week.
The Tempe City Council voted recently to prohibit the use of e-cigarettes in public areas. When the ban goes into affect at the end of the month, it will be the first of its kind in Arizona.