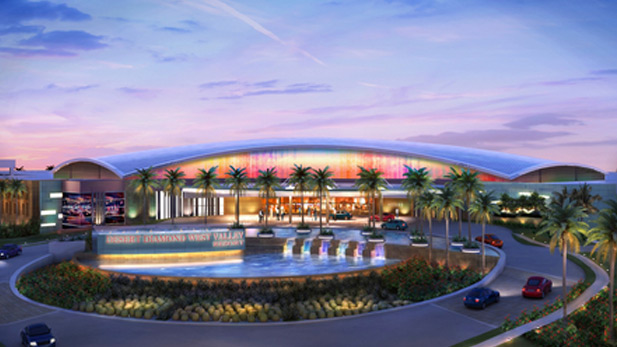 PHOTO: westvalleyopportunity.com
Proposed Tohono O'odham casino in Glendale.
Story by Al Macias

Listen:
A divided Glendale City Council has approved an agreement with the Tohono O'odham Nation to build a casino adjacent to the city.
The 4-3 vote Tuesday night vote comes after months of negotiation and years of litigation and political battles between the Phoenix suburb and the tribe. After losing several legal battles, the city agreed to support plans for the casino.
Under terms of the agreement, the tribe will commit more than $25 million over the next 20 years to the city.
Glendale Councilman Gary Sherwood, who supports the deal, said the casino will generate other projects, and that the city has already met with two developers.
"One has built a very large project in Phoenix. And they only became interested in the area because of the casino. And both of those don't buy land and sit on it for four or five years. They buy land and start construction right away," he said.
As part of the agreement, the city will try to convince state and federal officials to end their opposition to the casino plans. Sherwood said he doesn't believe the tribe has firm plans for construction yet, but he said he wouldn't be surprised if there was gaming on the site by next fall.
The casino would be located near the stadium that is home to the NFL's Arizona Cardinals.
The Associated Press contributed to this report.