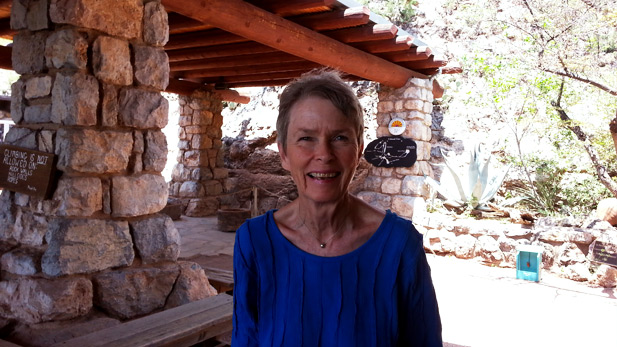 Martie Maierhauser, director of Colossal Cave Mountain Park.

Laura Markowitz
Listen:
After 52 years managing Colossal Cave Mountain Park, park director Martie Maierhauser is proud of what she and her husband accomplished, but it's uncertain if her management lease will be renewed by Pima County.
In the spring of 1962, Martie Keen was heading back to South Dakota from Mexico when she stopped off at Colossal Cave Park. The park is set in the Rincon Mountains in the town of Vail. She spent a few days exploring the area with the director. His name was Joe Maierhauser.
"The following summer Joe asked me if I'd be willing to come down and go to work for him," she remembered. "I said, 'Yes, I'd love to do it.' I was already working in the tourist industry. We were married three years later."
The Maierhauser's ran the park together until Joe's death in 2007.
Maierhauser said the biggest change in her 52 years at Colossal Cave is that the park has gone from 495 acres to 2,400 acres.

"It was just our dream...from the beginning to protect as much of this area as we possibly could," Maierhauser said. "We became alarmed by what we were seeing in the neighborhood. Development was starting to feel pretty close to us, starting to encroach. We are very proud of the fact that Colossal Cave Mountain Park is on the National Register of Historical Places and the entire park is a national historical district. It gives us another level of protection and recognition."
Colossal Cave Mountain Park is a wildlife corridor that stretches from Mexico to the Mogollon Rim and beyond. It's part of the Pima County Mountain Park system. Maierhauser said it's also a plant treasure trove, with more than 1,000 species, "which is actually more than the entire Tucson Mountains," she added. "This is all what we were trying to protect."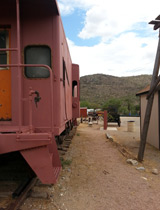 Colossal Cave Mountain Park has its own train car, which commemorates the train robbers who, according to legend, holed up the cave. (PHOTO: Laura Markowitz)
The cave itself is also unique. Colossal Cave is actually the fossil remains of an ocean that covered this area around 320 million years ago. The ocean's sediment compressed into limestone and, over time, water seeped up through fault lines and slowly carved out the cave.

Maierhauser said Colossal Cave Mountain Park is more than just the cave.

"If you continue down the road a little way we have beautiful picnic areas and further down you'll get to the Posta Quemada Ranch, which has been a working ranch since 1878," she said.
It's now used as an education center. The park also offers visitors trail rides, and there are two museums and a train car that commemorates the train robberies for which the cave is famous, according to Maierhauser.
Cave tour guides like to tell visitors about a train robber named Kid Smith who holed up in the cave with his gang and possibly left behind some of the loot. Maierhauser said she doesn't believe there's any unrecovered train robbery loot in Colossal Cave, "but it's really fun to think about it," she said with a laugh.
Actually, that train loot would come in handy right now. Since the 2008 economic downturn, attendance at Colossal Cave Mountain Park has been falling. In 2010, there were 50,000 visitors; in 2012, there were fewer than 38,000.

Low attendance was one reason Pima County Supervisor Ray Carroll called for a performance audit last summer to assess Maierhauser's management of the park. The second reason he cited in his memorandum to the Board of Supervisors was the illegal shooting of a mountain lion on CCMP land, which happened in June of last year. Carroll called the shooting a "travesty" and held Maierhauser's management company responsible.
"Baiting and poaching wildlife is a very serious offense in our county," said Carroll, who represents Pima County District 4, which includes Colossal Cave Mountain Park. "The man who arranged to shoot the mountain lion in the parking lot endangered visitors, taxpayers as well as tourists. Endangered them by shooting a mountain lion, wounding it, letting it roam then shooting it with a shotgun. It was heinous and it's well-known that this person, Rick Dailey, has poached before out there, has baited before out there. We have eye witnesses to that. And there's not just an urban legend of it when you catch him in the parking lot doing it."
Carroll questioned why Maierhauser continues to allow Dailey to work at Colossal Cave Mountain Park. Maierhauser said Dailey has been associated with the ranch for more years than she's been there. Maierhauser doesn't defend his actions, but she did point out, "that is the only such incident that we have had in the park in the 58 years since my husband and I have operated it."
Carroll said Maierhauser's management company's lease will be up for renewal in a year.

"I think it needs some new blood," he said. "I want competition for that agreement to manage that park. And simply said the park has so much deferred maintenance from the pavement as you come into the crumpled parking lot, to the attitude and abilities of the workers there. I've never been impressed for years. It has fallen short of its peers under the vendor relationships that we have with attractions we have across Southern Arizona. That affects the bottom line for Pima County taxpayers."
The County Supervisors allocated $25,000 for the performance audit and a committee has been working on it now for a year.
"They are putting together what I'm told is a big report," Maierhauser said. "We've been having an extremely difficult time since the Great Recession began and actually even a little bit before that. One of the things they've been doing is looking at ways that might possibly help us. I'm very hopeful for that aspect of it."
The committee's final report is expected to be presented to the Pima County Board of Supervisors in September.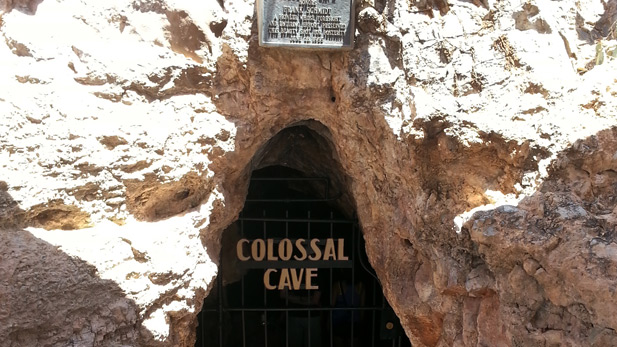 Entrance of Colossal Cave.

Laura Markowitz