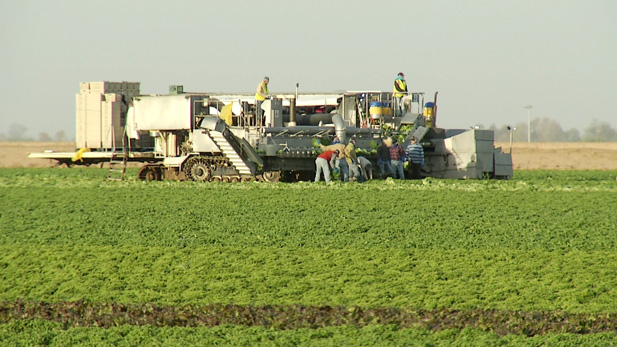 PHOTO: AZPM Staff
Yuma is often called the winter vegetable capital of the world.
Listen:
The University of Arizona is opening a center in Yuma hoping to help growers improve farming techniques and safeguard their output.
Yuma is often called the winter vegetable capital of the world, because the region produces 90 percent of the leafy greens consumed in the U.S. and Canada during the winter.
Shane Burgess, dean of the University of Arizona College of Agriculture and Life Sciences, said the mission of the Yuma Center of Excellence for Desert Agriculture is to rapidly respond to problems faced in the city.
"...problems...that we don't already respond to in a different way," he said. "...to fill in the gaps that we don't already respond to right now, so very urgent issues."
Those could include universal food safety problems that aren't specific to the desert climate, or may be related to drought, pest infestation, or a variety of unforeseen threats.
Although the center is based in Yuma and working directly with producers there, Burgess said he expects its research will be applied to dry climates around the globe.
"Forty percent of the world's agriculture is arid land agriculture. And I'd like to see what we're doing in Yuma, and the very high technology that's used in Yuma and desert agriculture that's extremely water efficient be taken up and used around the world," he said. "I'd like to see Yuma become a real center of attention for the whole world."
The center is run by the UA but funded entirely by the private sector, with more than a million dollars committed for the next three years.
A search for a director is ongoing.