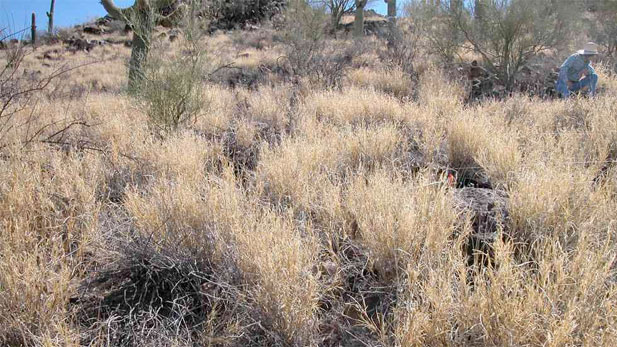 PHOTO: Travis Bean
Buffelgrass on Tumamoc Hill in Tucson.
Saguaro National Park plans to spray with herbicide areas of the park where buffelgrass has established itself.
A helicopter will be used to spray the invasive plants in areas of the park where it is too dangerous or too remote to reach by foot.
Areas to be treated are in the Rincon Mountains, east of Tucson, and the Tucson Mountains, west of the city.
Spraying is planned from Tuesday to Aug. 26.
Buffelgrass is highly flammable, and park officials say it can help small fires spread out of control and engulf native plants. It also forces out native plants.
Several trails in the park's Tucson mountain district will be closed while the spraying is being done.
The Associated Press contributed to this report.