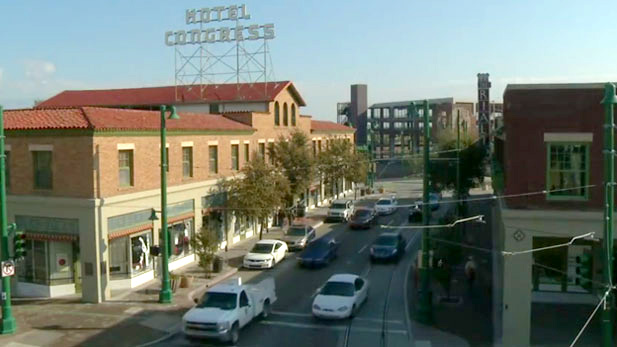 Downtown Tucson. (PHOTO: AZPM Staff)
Listen:
Tucson's birthday is today.
But there were no fireworks or pomp on Aug. 20, 1775.
Marty McCune of the Tucson-Pima County Historical Commission explained what happened that day.
"Hugo Oconór, who was an Irish mercenary in the Spanish army, came to Tucson and decided this would be a good place to relocate the presidio from Tubac, which would be more easily defensible against the Apaches. And he wrote a letter to Spain saying this was the place we've selected for that new presidio," McCune said.
She said Aug. 20 became known as the city's birthday over time.
"We had people in this area for probably 4,000 years prior to contact with the Spanish, so this was just a date that was picked to commemorate the beginning of the community," McCune explained.
This evening, city officials will raise the five flags that have flown over the Old Pueblo – the U.S., Spanish, Mexican, Confederate and Arizonan. The Tohono O'odham and Pascua Yaqui flags will also be presented.
The celebration kicks off with a performance by Mariachi Los Changuitos Feos at 5:30 p.m. in the Presidio San Augustin del Tucson courtyard.
McCune said usually between 200 and 300 people come to the festivities, and like at any good birthday party, cake will be served.