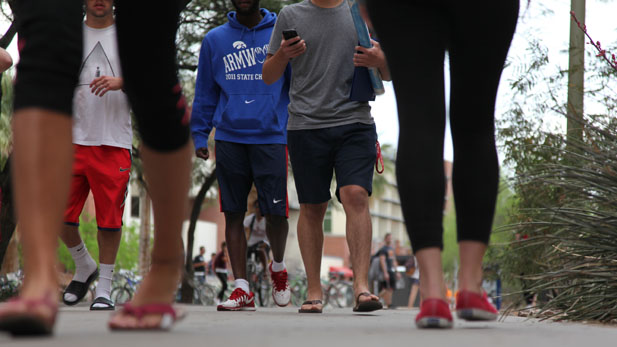 PHOTO: Andrea Kelly, AZPM
On the University of Arizona campus.
Listen:
The University of Arizona will set several records when its fall semester gets underway next week.
The freshman class at the UA this year will be the biggest in the school's history, at more than 7,800 students. That's up from 7,200 last year.
Kasey Urquidez, the dean of undergraduate admissions, said the bigger class size is a result of targeted and more personal recruitment.
"We also have a number of high school counselor advisory boards and those kinds of things where we're really trying to make sure that the full scope of what the university offers is out there and we've been doing that for a few years and definitely starting to see the results," she said.
Applications from Arizona residents were up 20 percent this year over last and more than half the freshman class is from the state. The top five states for non-Arizona residents are California, Illinois, Washington, Colorado and Texas.
The incoming freshman class is also the university's most diverse.
This is the second year in a row that minority students account for more than 40 percent of the incoming class. Urquidez said the increase in minority enrollment is a reflection of national demographic trends.
"There's more and more Hispanic students that are graduating for example. The minority and majority is really melding together a lot. We make sure that everything we do is for all students. We work really hard to recruit students of all backgrounds and types," she said.
Classes begin on Monday.