Listen: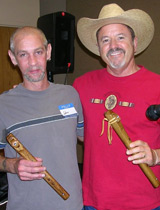 (PHOTO: Courtesy of Tucson Native American Flute Circle)
Some Tucson residents gather once a month in the city to practice an instrument that is often associated with the desert Southwest and other ancient regions of North America.
The Tucson Native American Flute Circle was established in 200,5 and members have been meeting at libraries or private homes ever since, where they like to play their instruments and share their stories.
They say the flute is very easy to play and does not require that the person have a musical background in order to begin or progress.
The next gathering is scheduled for Sunday, Sept. 21 from 2 p.m. to 4 p.m. at Himmel Park Libraryin midtown Tucson.
Members of the public are welcome to stop by and enjoy the sounds, but if you bring a flute you will be expected to play for at least a few seconds.