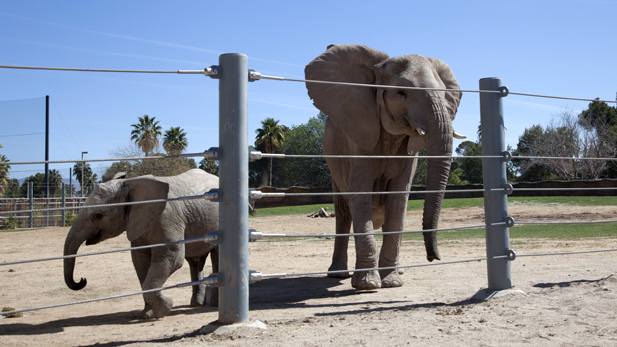 Semba and offspring Sundzu at Reid Park Zoo. Semba gave birth to a female calf Wednesday night.

Kelly Hultgren
Listen:
Reid Park Zoo says Semba, a 24-year old African elephant, gave birth to a female calf on Wednesday night, after a 22-month long pregnancy.
Semba began showing signs of labor at about 10:35 p.m. and her calf was born 20 minutes later without any assistance.
Vivian Van Peenen, the zoo's curator of education, said the baby weighed in today at 245 pounds.
"A typical elephant calf is 200-250 pounds so that's a good size baby within normal limits," she said.
Mother and baby are off exhibit in the Click Family Elephant Care Center. Zoo officials say during the next 72 hours, they'll form deep emotional and physical bonds are being given space and privacy. Only essential staff members are being granted access to the Elephant Care Center during this time.
Van Peenen said this is the first elephant birth in the Reid Park Zoo and in Arizona.
"It's a direct message for our visitors about what's happening with animals in the wild," she said. "The reason we have these animals is to provide a connection with wildlife that kids and families will get no place else. We're just so incredibly proud."
Semba's calf hasn't yet been given a name, but Van Peenen said the elephant team has been charged with picking a name. Members of the community might be asked for their input.