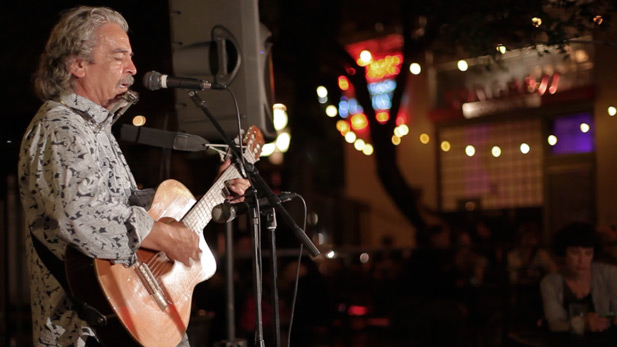 Salvador Duran performs in the back patio of the Hotel Congress every Thursday evening. (PHOTO: Sandra Westdhal, AZPM)
STORY CO-PRODUCED BY SANDRA WESTDHAL, AZPM

Listen:
Salvador Duran emerged on the Tucson music scene on his stomping box. With a guitar on his shoulder and a harmonica around his neck, he's enamored locals with his Latin music repertoire for years.
Duran immigrated to Tucson more than a decade ago.
He had been a long-time singer in his native Mexico, performing in big cities, small-town venues, even at plazas while riding a horse. But by the time Duran embarked to the Old Pueblo, he had decided to abandon music for painting. The beauties and sorrows he carried with him were to be reincarnated on canvases.
However, it didn't take long for the road he'd chosen to merge with his musical past.
Duran's brother was kidnapped in Mexico and never found. (PHOTO: Maria Inés Taracena, AZPM)
"And in that relationship between painting and music, I thought of the phrase, 'I sing my paintings and I paint my music,' he said in Spanish while sitting at his second home, a gathering of local art studios in downtown Tucson called Solar Culture.
Duran relies on music and painting to mourn the loss of a brother or friend, to celebrate exciting moments, to protest social inequalities in his home country. The list is limitless.
"Art, painting...when you can't scream about something that you don't like...in that sense, art can help you, in that sense, art has helped me," he said.
Duran was born in the mining town of Cananea, Sonora.
As a young adult, he was unhappy about many social, economic and political circumstances in Mexico.
In the late 1960s, he and his brother enrolled at the National Autonomous University of Mexico, or UNAM, in Mexico City. The siblings, like many others in Latin America at the time, caught up with activist groups, hoping to help change some of the cruel realities they witnessed.
"So we became involved with the movements, activism, freedom movements, criticizing circumstances in the country," he said.
These movements sent Duran to Central America and other areas of Latin America. But speaking up brought consequences.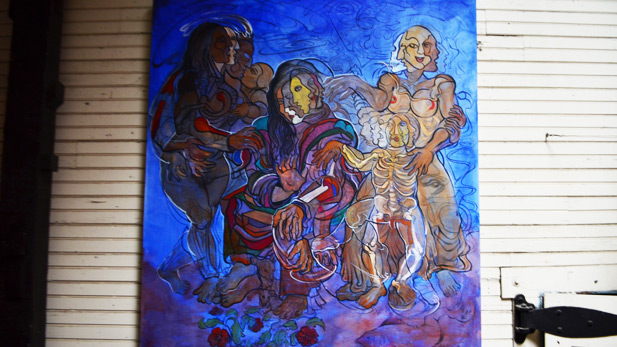 One of Duran's paintings hangs on a wall at Solar Culture, his second home. (PHOTO: Maria Inés Taracena, AZPM)
Listen to Salvador Duran perform four original songs in the AZPM Studio:

Music recorded and mixed by Jim Blackwood
"We had already received threats...(there were) issues, circumstances that tell you that you shouldn't be making too much noise," he said.
Duran remembers friends who were kidnapped and never found. Others returned with tales of torture…Then, those stories hit home.
"At one point, my mom had to go to the hospital, and my brother had to pick her up…I wasn't there…that's when he never came back…we filed a complaint with the police, and we never found out what happened, no references, he was added to a missing persons list…" he recalled.
His nephew fell victim to the same fate years later. Neither of their whereabouts is known...
Duran's brother's Mexican ID stands on one of the fixtures inside Duran's painting studio. Photos of friends, his wife, and a younger Duran are also scattered on wooden and glass tables.
The artist's lifetime has seen many losses. Friends, his brother, his nephew, an uncle about two years ago. But for years, he's tunneled that pain into pencil drawn images portrayed on his paintings or a verse he sings in Spanish during live performances.
"I want to remember everything that's happened, not let them be erased, but also not constantly carry the pain that comes from loss, but remember them like beings who gave their part or their efforts to create change, not so much remember them in a tragic way but with value," he said. "A personal recognition of people who give what they have, even their lives, to try to change things that we consider are not right."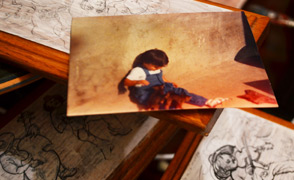 Duran's son still lives in Mexico. Photos of family members and friends are scattered around his painting studio. (PHOTO: Maria Inés Taracena, AZPM)
Duran said there is always that necessity to know where your blood ended up. But a person must not allow past torments to invade the present and future.
"It's not that we abandoned the objective…but we have to search for alternatives…and art, music, paintings are things that are always there…you always carry it in your soul, your spirit," he said.
Settling in Tucson close to 15 years ago was spontaneous. Duran was merely passing through, visiting family. His plan was to move to Vancouver, British Columbia to participate in a project he had arranged.
Tucsonans enchanted him. He described them as warm.
"The comfort I felt here was what made me decide to stay, and until now I haven't been wrong," he said.
That connection has intensified with the years.

"There are always new people, but I love seeing people I've already seen and met before…that well-being in that exchange is enjoyable for me, seeing new faces and also the same, because you recycle a series of emotions and likes, and you feel more comfortable, too… It's like a communion of emotional exchange…putting forward all your senses, emotions, passions, the exchange becomes more fluid," he said.
In recent times, Duran has toured here and there with Sergio Mendoza as a member of Y La Orkesta, as well as recorded music with Calexico and most recently Iron and Wine.
Duran refered to Calexico and Sergio Mendoza as those who musically recharged him when he arrived to Tucson.
He met Joey Burns of Calexico while performing for the first time locally at Solar Culture. After some time, Burns invited Duran to collaborate and they've been in this relationship on and off for years. Mendoza then asked him to participate in a musical experiment that would after be named Y La Orkesta.
"And the first time we performed, it was very festive, like an explosion of a small volcano that had decided to open its mouth to let the fire out, the passion for music…I was filled with surprise and excitement because I had already decided not to sing…that passion emerged again for music," Duran said.
Duran still performs in the back patio of the Hotel Congress every Thursday as the sun goes down. Still on his stomping box, with his guitar and a harmonica around his neck.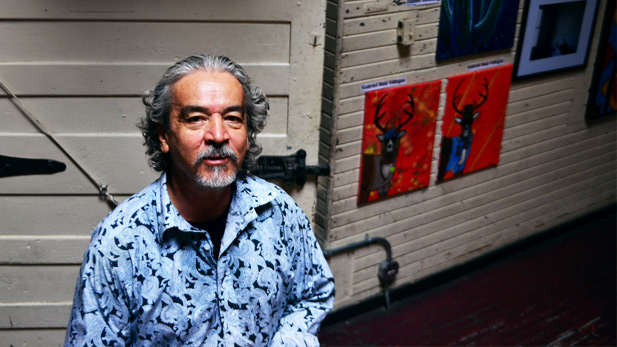 (PHOTO: Maria Inés Taracena, AZPM)