(VIDEO: AZPM)
The Mexican people are nearly split on whether they believe the real Joaquin "El Chapo" Guzman was finally apprehended earlier this year. A recent poll shows 42 percent say yes and the same number say no.
Independent filmmaker Charlie Minn also has doubts. He made a documentary about it, ¿Es El Chapo?, Is It El Chapo?, which is screening for one week in Tucson starting today.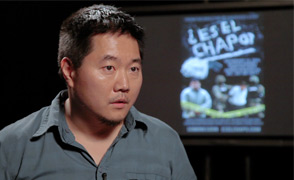 Independent filmmaker Charlie Minn. (PHOTO: AZPM Staff)
"He went down without a single shot being fired," Minn said during Friday's broadcast of Arizona Week. "We are talking about the most powerful drug lord in the world, where was his security?"
Minn visited El Chapo's birthplace, La Tuna, a nearly deserted area in Culiacán, the capital of Sinaloa, to explore these questions firsthand.
"It's really about his arrest and what people in Culiacán, Mazatlán, Sinaloa, La Tuna, think about his arrest, and some border scholars in the U.S.," he explained.
Although fingerprints and other characteristics were allegedly verified at the time of his arrest, red flags have emerged that could justify theories saying the head of the Sinaloa cartel may still be free, according to Minn.
The director found it odd that his reportedly hundreds of armed guards were nowhere in sight when El Chapo was caught in Mazatlán, Sinaloa on that February morning. Also, the photo released of his arrest looked dramatically different than what El Chapo looked like when he was first apprehended in 1993, Minn argued.
"Right off the bat, the two pictures don't look like him...this guys is rarely photographed, is never given an interview, so when you see the arrest in 1993 compared to 2014, you're going to tell me it's the same person?" he said.
Since his arrest on Feb. 22, there hasn't been much noise about El Chapo. Having been one of the most wanted bandits, Minn said a lot more conversations about his imprisonment should be happening. "It is suspiciously quiet," he added.
Minn said drug-related violence in Mexico and in other area's El Chapo's influence sprawled to, such as Chicago, hasn't changed much either.
"Usually, when a big cartel is taken down, a power vacuum is created, where another rival cartel tries to come in and expose a weakened cartel...that hasn't happened," he said. "They are averaging 50 shootings a day in Chicago. Chicago has become the new Juarez. It is more dangerous than Ciudad Juarez. El Chapo's influence reaches Asia, Europe...he is everywhere and nowhere."
It's unlikely information backing the theories will ever come out, Minn realistically pointed out.
"This was a combined effort between Mexican Marines and the (Federal Drug Administration), if it's not him, I don't think either the United States or Mexico is going to admit the error, because this would be the biggest embarrassment in the history of law enforcement," Minn said.
¿Es El Chapo? premiers in Tucson today and will be screening at Harkins Theatres Spectrum 18 for about one week.

Watch ¿Es El Chapo? trailer: