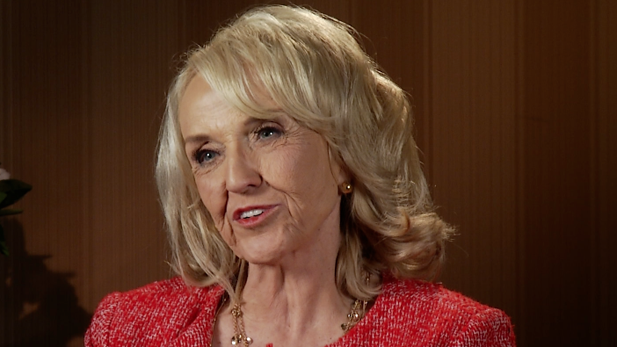 PHOTO: AZPM
Gov. Jan Brewer.
The Arizona Supreme Court says Wednesday it will consider Gov. Jan Brewer's challenge to an appeals court decision reviving a lawsuit filed by state Republican lawmakers against Medicaid expansion.
"I applaud the Arizona Supreme Court for granting the state's Petition for Review in the Medicaid Restoration lawsuit," Brewer said in a statement. "With the court's decision, Arizona is one step closer to ending the baseless lawsuit, thereby allowing the state to focus exclusively on implementing one of the most critical and meaningful health care policies to be enacted in years: the restoration of a significant segment of our model Medicaid program, AHCCCS, in accordance with the will of the Arizona voters and the state Legislature."
In May, Brewer and AHCCCS Director Tom Betlach petitioned the Supreme Court to review an April appellate decision allowing the suit by a group of 36 GOP lawmakers to move forward. The Arizona Court of Appeals had ruled the lawmakers had the right to sue over a hospital assessment that would fund the AHCCCS expansion. Those expenses would be covered under the Affordable Care Act the first year, and then a tax would kick in.
The lawmakers argued the tax required a two-third vote from the Legislature, not just majority votes. They filed the lawsuit last year.
A bipartisan group of state legislators and former Arizona Gov. Fife Symington came to Brewer's defense in June, filing a brief to the Supreme Court also asking to throw out the lawsuit.
In her statement, the governor said she is hopeful the court will reverse the appellate decision.
Brewer has argued that if the courts block her plan, more than 276,000 Arizonans would lose access to health care, hospitals will be financially damaged and the state's finances will be hurt.
"Arizonans...risk losing crucial, cost-effective healthcare, the viability of our rural and safety-net hospitals, and the ability of our state budget to fund critical programs and services essential to our most vulnerable," Brewer added.
The Associated Press contributed to this report.