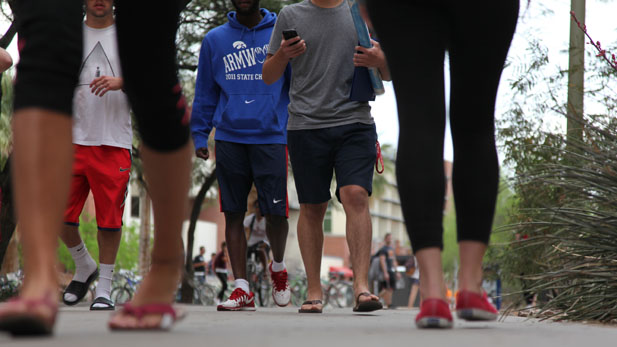 PHOTO: Andrea Kelly, AZPM
On the University of Arizona campus.
Listen:
According to the White House, one in five college women is sexually assaulted while in college.
But Kendal Washington White, dean of students at the University of Arizona, highlighted the difficulty of counting cases of sexual assault.
"Because it is such an emotional and personal violation and often students do not report," she said.
The UA has a wide range of support services available to victims and practices for investigating and punishing people accused of assault. But, Washington White said, the campus is also focusing on stopping sexual misconduct before it happens.
Kathleen Young works with the university's Oasis Program Against Sexual Assault and Relationship Violence. She said in the past, emphasis was placed on preventing potential victims from putting themselves into dangerous situations. That messaging contributed to a climate of victim blaming.
"So we try to focus on bystander intervention, which is talking to our whole campus community about the seriousness of this issue," she said. "Getting buy in in changing culture and recognizing the signs that something problematic and traumatic could be in the making."

Young said the UA has emphasized bystander intervention for several years. The White House has called it the most promising approach to preventing sexual assault.