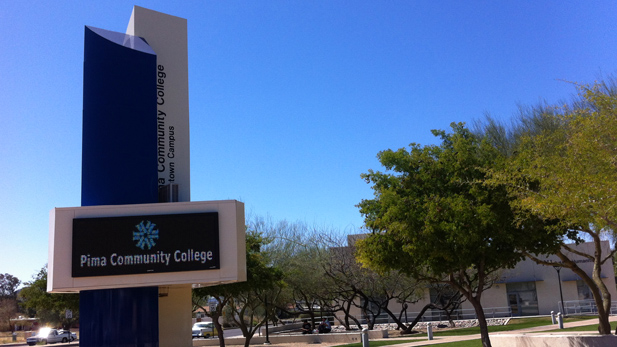 Pima Community College Downtown Campus.

Fernanda Echavarri, AZPM
Listen:
English as a second language classes start Tuesday at Pima Community College.
Several hundred students enroll in Pima's ESL courses every year.
Nancy Hamadou, who teaches at Pima's West Campus, said last semester her students were from 34 countries and the United States.
Hamadou said Iraq and Mexico are the best represented countries in the program, but her students come from all over Asia, Europe, Africa and Latin America.
While many of the international students come to Pima to learn English before pursuing an academic degree, Hamadou said a lot of the students from the U.S. come to the program for different reasons.
"Mothers whose kids are going to school and they realize they need more English to communicate with the teachers. We get students who are graduating from high school but they came to the United States during junior high and though they have a degree, their English is not good enough to be able to study in an academic or certificate program," she said.
She said learning English is particularly important for her students who live in the U.S.
"Knowing English can unlock so many doors for them," she said.
Pima offers beginning, intermediate and advanced ESL classes, as well as conversation, pronunciation and grammar courses.