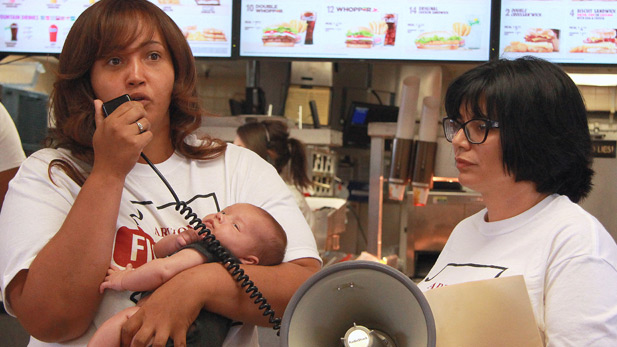 Tucson fast-food workers protest for higher wages, right to form unions without retaliation.

Brenda Limón
Listen:
Tucson fast-food workers and advocates joined a nation-wide demonstration Thursday in support of raising the minimum wage.

Local fast-food workers joined by dozens of supporters demonstrated in front of a Burger King on East Grant Road this morning.
Maya Castillo is a member of the organizing committee, and she said the fast food strike is part of a national movement demanding $15 dollar an hour wages and the right to form a union without retaliation.

"We're not asking for a boycott…what we're asking is that people do their homework and become aware how these issues affect working class people," she said.
Castillo said Thursday's demonstration is meant to challenge the notion that fast-food workers are only teenagers looking for pocket change. Today's workers are mothers and fathers struggling to raise children on wages that are too low, she added.
"Really it's to call attention to these issues…and to really press these large franchises to come up with the money to pay people good wages…for the good work that they do," she said.
Many of the nearly 90 Tucson demonstrators traveled to Phoenix for a larger public action at noon today.