One of the biggest platforms in Democratic governor candidate Fred DuVal's campaign is the relationship between education and the economy. The former Board of Regents member says if the state wants to fully recover from the Great Recession and reconstruct a strong economic system, it needs to invest in education.
The first step is to stop the dramatic budget cuts, he argued.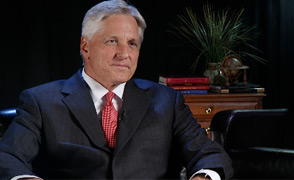 Democratic gubernatorial candidate Fred DuVal.

AZPM Staff
"We've cut deeper on a per-student basis than any state," DuVal said in Friday's broadcast of Arizona Week. "We have now seen the results of that decision, we lose one-third of our teachers every year, we have the largest class sizes in the United States...Every kid should have a good choice and a good opportunity to get the kind of education we want so they get the skill sets for the jobs of the future."
Arizona is one of the handful of states that hasn't fully recovered from the recession, DuVal pointed out. A state deficit could grow to about $800 million by the time either he or any of his challengers take office next year. Arizona can work it through, but it needs to nurture skilled workers to attract and retain more businesses, DuVal said.
"You have to have a good education platform, producing good and smart graduates ready to fill these positions," he said. The business community has been vocal in saying they need more university, community college and high school graduates, DuVal added.
Rural Arizona is particularly challenged in that area because the school system is unequal, he argued. Children closer to metro areas such as Phoenix get better opportunities than kids in smaller towns such as Douglas, for instance.
"How do (we) close that gap, so that every child, wherever they happen to start in life, have the full opportunity to bring their God-giving talents into our economy and into our lives," he said. "School equalization is a very important principle."
He would also like to retain university graduates. DuVal said a very small number of college graduates stay in Arizona, and there needs to be a strategy in providing them with good opportunities that will influence them to stick around.
"This long-term talent drain is going to cost long-term job losses, loss of growth, loss of opportunity and I'm deeply concerned about it," DuVal said. "We need a number of things...university space and research and development space, we need more innovation...products and ideas that will drive the 21st century exports and consumer purchase that is income to the state."
Fostering smaller businesses and creating a stronger trade relationship with Mexico are also key to a successful statewide economy, he added.
DuVal is facing Republican Doug Ducey, Libertarian Barry Hess and Americans Elect candidate John Lewis Mealer in the Nov. 4 general election.