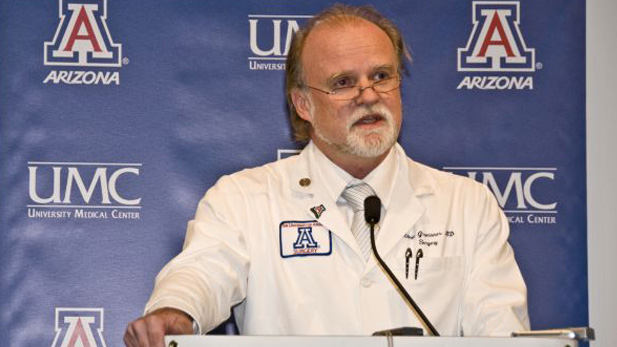 UA News
The University Physicians Healthcare agrees with an independent panel's finding that ousted head surgeon Rainer Gruessner was wrongfully fired.
The University of Arizona medical board said Friday it will adopt the panel's recommendations, including reinstating Gruessner as a faculty member without clinical or administrative duties, retracting unethical conduct allegations and paying his salary for one year or until he finds a new position, the Arizona Daily Star reported.
Last month, the three-member panel, comprised of physicians from outside the state, heard charges against the physician. They found the medical center failed to meet its burden of proving Gruessner's termination was justified.
Gruessner, a transplant surgeon who joined the UA in 2007, was placed on administrative leave with pay in September 2013 amid an accusation that he altered liver transplant records. The independent panel found he acted appropriately to correct the record errors.

The physician argued his ouster was in retaliation for his expressing concerns about the leadership of the former UA College of Medicine dean, Steve Goldschmid.
Gruessner filed an $18.9 million notice of claim against the college and the Arizona Board of Regents in March.
Gruessner's attorney Kraig Marton said the surgeon is "delighted" about the UPH's decision.
The Associated Press and AZPM's Vanessa Barchfield contributed to this report.