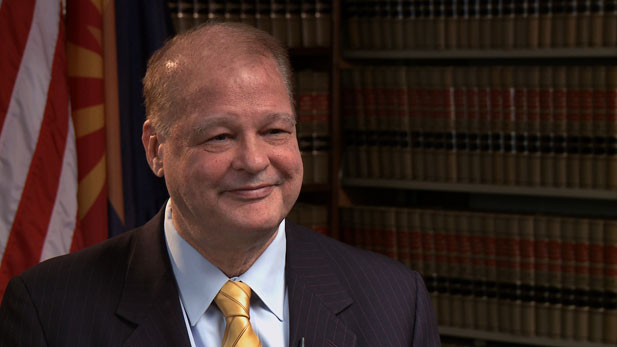 Arizona Attorney General Tom Horne.

AZPM Staff
The executive director of Arizona Citizens Clean Elections Commission says there's enough evidence to believe Attorney General Tom Horne broke elections laws by using his staff to work on his re-election campaign.
Tom Collins wants the commission to adopt his recommendation and possibly force Horne to repay more than $312,000 for salaries and use of office space. The commission takes up the recommendation Thursday.
"The process we have allows for Mr. Horne to comply or to provide further explanation," Collins said. "There is also the possibility of conciliation."
Former Horne staffer Sarah Beattie filed a complaint in May saying she was essentially hired to work on Horne's campaign and others in Horne's office also did substantial campaign work.
Horne has denied the allegations.
If the commission adopts the recommendation, Horne has the chance to explain why Collins was wrong, repay the money or negotiate a settlement.
Horne lost to Mark Brnovich in August's Republican primary.
The Associated Press contributed to this story.