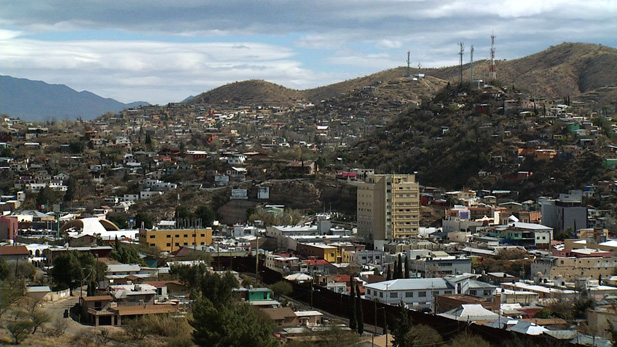 A view of Nogales, Ariz. and Nogales, Mexico.

AZPM Staff
Story by Steve Shadley
Fronteras Desk

Listen:
Nogales Mayor Arturo Garino wants federal officials to verify the safety of new x-ray equipment used to screen vehicles and trains at a border crossing in his city.
Garino said he is worried people passing through the port of entry in his city might be exposed to unsafe levels of radiation.
"We've had a history of lupus and a history of leukemia in Nogales, but radiation is radiation, and how safe it is for humans, I don't know..." he said.
Garino isn't sure why people are getting sick. He said previous studies of water, air and soil in Nogales have not found unhealthy radiation levels. Now he's asking the Department of Homeland Security to find out if its "Z-Portal" scanning system is leaking dangerous materials.
"Let's just hope that there's nothing there…but if we have concerned citizens then we have to address the issue…" he said.
But U.S. Customs and Border Protection spokeswoman Teresa Small said the Z-Portal radiation levels are safe.
"Really the amount that is actually emitted is extremely low. As a matter of fact, getting a regular chest x-ray is a lot more than would be emitting from this equipment," she said.
Small said there have been no reports of radiation sickness among border patrol agents since the equipment was installed at the Nogales port of entry in June.