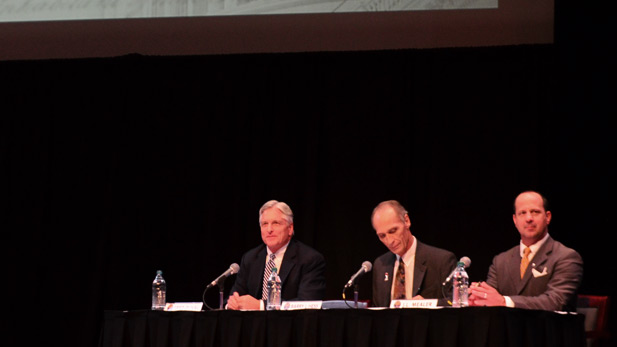 From left to right, Democrat Fred DuVal, Libertarian Barry Hess, Americans Elect John Lewis Mealer in gubernatorial forum at the University of Arizona on Sept. 21, 2014. Republican Doug Ducey could not be present because of a prior commitment.

Maria Inés Taracena, AZPM
Three gubernatorial candidates faced off in a forum at the University of Arizona Sunday, covering issues from the state's impending budget deficit to marijuana legalization.
In fact, the candidates made a connection between the budget deficit and legalized marijuana.
Americans Elect candidate John Mealer said he would balance the state's budget with the tax revenues collected by legalizing marijuana and hemp.
"We have a big industry waiting to take place here in Arizona. Hemp is a multi-trillion dollar industry," he said. Mealer suggested releasing non-violent inmates to work the hemp lands.
He spoke along with Democrat Fred DuVal and Libertarian Barry Hess in a 90-minute forum, which was hosted by the Associated Students of the University of Arizona and Arizona Public Media.
Watch the forum -

Republican Doug Ducey did not participate, citing a scheduling conflict.
The forum, which attracted a small audience - fewer than 100 people in the UA's Centennial Hall, which seats 2,500 - included the candidates agreeing that legalizing marijuana should be considered.
Hess agreed with Mealer, saying hemp and marijuana need to be decriminalized. DuVal said Arizona should watch Colorado and Washington state closely to see the economic effects of legalization there.
The three agreed on allowing same-sex marriage, and DuVal said he supports it on both a policy and personal level.
"The discrimination that occurs breaks my heart," the Democrat said. "Cultural discriminatory wars have to stop."
DuVal criticized Ducey, saying the Republican's support for such policies hurts the state and the economy.
Mealer noted the Constitution's 14th Amendment, which establishes "equal protection of the laws," saying people deserve to be happy and no one has the right to deny marriage to any citizen. Hess said there is no room for government in marriage.
"I see everybody equal, people's sexuality is none of (my) business," and government should completely stay out of marriage, he added.
Regarding border security and immigration, DuVal and Mealer focused on state and federal resources that can be used to battle human and drug smuggling and strengthen security. Mealer said the biggest issue is human smuggling, and that drug cartels can be taken down by legalizing certain drugs.
Hess had a different approach, saying borders should be shut down.
"People are found dead trying to cross here, I don't want to see (any more) bodies in our desert..." he said. Hess said it is a matter of conscious, and that the state should be open to people who want to come to work and stimulate the U.S. economy.
DuVal referred several times to Ducey's absence, going as far as saying he wished Ducey cared about Tucson and Pima County as much as the three gubernatorial candidates who were present
In declining the forum invitation, Ducey, told the Associated Students that he had a prior commitment. He appeared with DuVal and Hess at a 90-minute Tucson gubernatorial candidates' forum last week.
The next gubernatorial forum in Tucson is Oct. 9 at Pima Community College's West Campus. DuVal, Hess and Mealer have committed to appear; Ducey has declined, citing another conflict.
The general election is Nov. 4, and early voting begins Oct. 9.