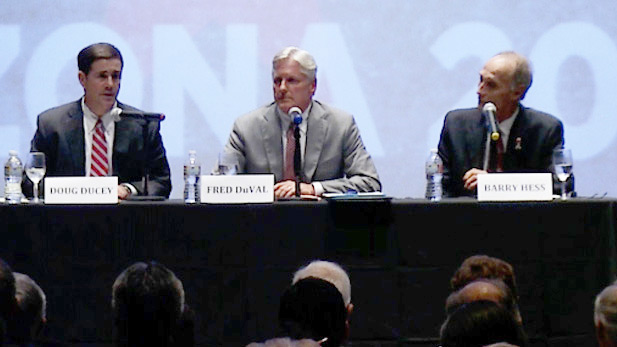 From left to right, Republican Doug Ducey, Democrat Fred DuVal, Libertarian Barry Hess.

AZPM Staff
Listen:
Whoever is elected governor in the upcoming general election will face serious economic and fiscal issues.
The Joint Legislative Budget Committee is projecting a deficit of up to $1 billion in the next two years. Arizona is bringing in 10 percent less in tax revenue than it did at its peak before the recession, according to a study by the Pew Charitable Trust. Also, the state's unemployment rate is still a full percentage point above the national rate.
Democratic gubernatorial candidate Fred DuVal said the facts speak for themselves.
"The comeback we've all been waiting for is not happening," he said. "In fact, the jobs that we are growing pay less than the jobs we lost prior to the recession. We are one of the few states that have not recovered its economic health. And we are not growing as we should."
Republican Doug Ducey has highlighted his experience as a business executive and said kick starting the economy is the issue that underpins his campaign.
"I'm tired of politicians talking rhetorically about job creation. Leaders go get jobs, we are right next door to California and we don't have to talk companies out of leaving that state," he said. "Let's go get them. We are already Chicago's favorite suburb. As governor I will go to Illinois and make the case for what a great state we have."
DuVal said small business is the key to job creation.
"Where we treat small business with lower taxes in order to get launched," he said. "To get from the dining room table across the street to the first lease."
DuVal also would like to see research and development tax credits for small businesses.
But on taxes, Ducey had a challenge for DuVal last week at a candidates forum in Tucson:
"So, I just want to know, can you look this audience in the eye and commit to them like I have that you will not raise taxes," Ducey asked.
"Yes," DuVal responded.
Ducey later explained his plan for a tax policy, including eventual elimination of income taxes.
"My philosophy on taxes is, that's your money. You earned it and I want you to keep more of it," he said.
Taxes are a common theme among all the candidates for governor.
Libertarian Barry Hess has said he agrees business needs encouragement but he has a different approach than DuVal.
"My proposal incorporates a 9.9 percent maximum transaction tax on all retail transactions," he said. "The second is to completely eliminate all personal and property taxes. The reason we can do this is, we will be supplanting the income from the transaction tax. That means putting so much money into our local economy, we are going to force local business to expand."
For Americans Elect candidate John Mealer, job creation also means new industry.
"I would work to legalize hemp because we have a big industry waiting to take place here in Arizona once we legalize," he said at a University of Arizona forum with DuVal and Hess.
The general election is Nov. 4.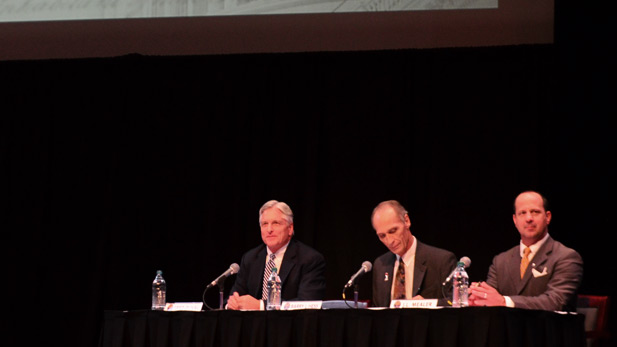 From left to right, Democrat Fred DuVal, Libertarian Barry Hess, Americans Elect John Lewis Mealer in gubernatorial forum at the University of Arizona on Sept. 21, 2014. Republican Doug Ducey could not be present because of a prior commitment.

Maria Inés Taracena, AZPM