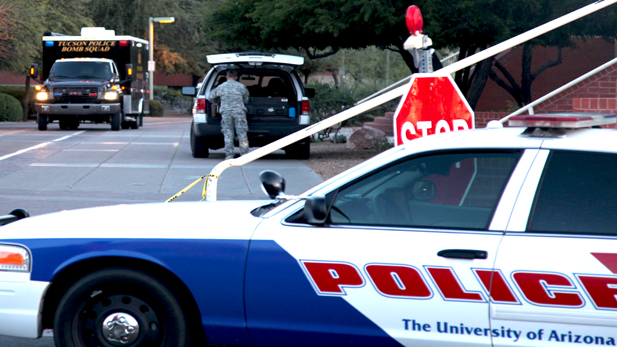 Christopher Conover, AZPM
Listen:
The University of Arizona Police Department continues to investigate reports of a gunman on campus 18-months ago.
In March 2013, the UAPD first locked down and later evacuated several buildings on campus for hours, as officers and regional SWAT teams searched for a gunman reported to be on campus.
The call was later deemed likely a hoax based on the information in the report and that no person with a gun was found.
Two reports came from "an unknown person using an electronic device to convey the information in text format to a third-party operator," the campus administration said in a written message to the campus community after the incident.
A year and a half later, the department has not released records related to the case. Days after the incident, Arizona Public Media requested documents including police reports, 911 records and radio communication recordings among officers.
Tucson Police Department provided its police reports within a month of the search. UAPD Sgt. Filbert Barrera said the FBI is investigating the case, and therefore the UA cannot release the records.
The FBI confirmed that in response to a request for public records related to the case.
The UA has not responded to a separate request made five months ago for an accounting of the cost of the search.