The two third-party candidates in the governor's race have led their campaigns with their business and economic plans to pull Arizona from the recession brink.
Libertarian Barry Hess, who is on his fourth run for governor, has proposed a high-speed, six-rail, solar-powered monorail that would run through Interstate 10 and merge to the north with Interstate 17.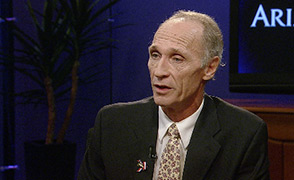 Barry Hess.

AZPM Staff
He said the project, which many people have called "too futuristic," would be funded privately.
"Individuals will be able to have the opportunity to own part of the superstructure and infrastructure in Arizona, with a world class tourist attraction," Hess during Friday's broadcast of Arizona Week. "It'll be the world's largest solar array."
Hess said this would connect metro areas of the state to more secluded ones, such as Native American reservations, and equally benefit all of them economically. A person living in Flagstaff or a reservation could go work in Phoenix, for instance. The state would also get great revenue from the public's use of the transportation.
For Mealer, who describes himself as an independent constitutionalist, it comes down to what he calls "the omnibus program," which he described is a way to put a safety net under businesses that are growing.
"It allows that business to grow...at the same time, this creates an Arizona on the bus incentive program or trade commodity program for the businesses and it keeps businesses funded," he said.
Hess has also been an advocate for eliminating income and property taxes. Instead, he'd implement a 9.9 percent retail transaction tax.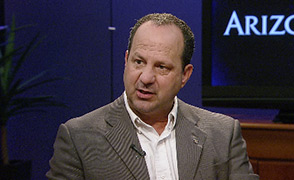 John Lewis Mealer.

AZPM Staff
"Which even Doug (Ducey's) people have run the numbers and it works," Hess said. "In fact, maybe too much money will come in (to the state)....able to stimulate the economy, forcing businesses to expand and offering new businesses the opportunity to come to Arizona. We'll become a magnet, rather than having politicians pick and choose what companies they want."
As was the case with the Apple factory in Mesa, which may now be shut down because a primary manufacturer has filed bankruptcy, he pointed out.
Mealer wants to legalize hemp, which is a multi-trillion dollar industry, he said.
"Hemp can build everything that comes from oil, all the plastics, rubber products, automobile rubbers," said Mealer, who owns an automobile company he hopes to incorporate with industrial hemp for car panels.
He said the hemp farms would create jobs here and south of the border. These farms need lots of water, and that water can come from facilities extracting all the salt from resources taken from the Sea of Cortez in Mexico's Baja California Peninsula, Mealer said.
To hess, fixing immigration is about allowing people to come in, "With a visitors pass, (people) who didn't present a physical threat by background check...to come in," Hess said.
They would have to pay a 5 percent tax that would go into technology to protect the border.
"...50-year-old technology that is absolutely proven, it's been around a military base up in Nevada ..never been penetrated...no wall...very cheap to put up...we can put it up in six months," he said.
This would prevent more people from risking their lives in the desert, he said.
"We have over 260 people who are found dead in our deserts every year, and I want to stop that," Hess said.
As for the race, both Hess and Mealer say are here until the end even if the chances to take the seat are slim.
Mealer said he'd run again in four years. Hess is unsure.
The two are facing off Democrat Fred DuVal and Republican Doug Ducey in the Nov. 4 general election.