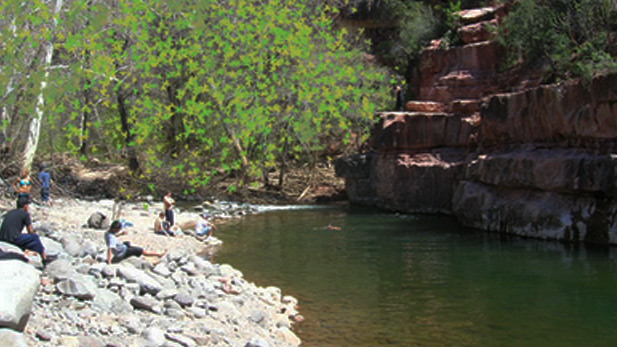 Oak Creek Canyon is located south of Flagstaff.

Coconino National Forest
Listen:
When wildfire broke out in northern Arizona's Oak Creek Canyon five months ago, limited cell phone access hampered early efforts to fight the fire. Now, there's a big dead zone in the canyon that worries emergency responders and residents.
On May 20, just after 4 p.m., travelers driving through Oak Creek Canyon noticed a plume of smoke at Slide Rock State Park. Since a cell signal is hard to come by in the canyon, they kept driving the windy road until they reached the fire station...10 minutes away, where they stopped to report the smoke.
The two firefighters on duty suited up to investigate. By the time they discovered the flames, and radioed dispatch for backup, the blaze had devoured hundreds of trees and was headed for Garland's Oak Creek Lodge.
"I was very, very worried. I just thought this fire was moving so fast. I really thought the lodge was going to be burned," said Mary Garland, the lodge's owner.
Garland evacuated her guests and staff. Her husband, Gary, stayed to help the two firefighters hold back the flames.
"I realize I just felt unprotected in a way that I really wasn't aware of before," she said.
The situation could have been much worse. First responders kept the flames away from homes and businesses.
Sedona Fire Chief Kris Kazian said the firefighters were able to communicate to dispatch on their radio from the depths of the canyon.
"Minutes are crucial. Seconds are crucial," Kazian said. "Quick access makes the difference in our business."
The Slide FIre exploded.
Within a few days, 1,200 firefighters were on the scene, creating so much emergency radio traffic that Kazian couldn't always reach the incident commander.
"Cell phone service is the key to living in modern society," said John David Herman, who drives from Phoenix to his cabin in Oak Creek Canyon on the weekends.
Herman has been complaining about the lack of cell service for years, but the Slide Fire upped the urgency. He said he worries about all of the other potential emergencies people could have in a 12-mile-long cell phone dead zone.
"You drove here. You could've had a flat tire. You could've gone off in the road. A million things could've happened and you'd still be there. There's a solution to the problem," he said.
Some say the solution is simple: erect a couple of cell towers. Verizon and AT&T say it's on their radar but the rocky, rugged terrain presents a challenge. Sprint said it's just too expensive for them.
"None of the carriers are going to do what we want them to do for the sake of 50 families in this community," Herman said.
Three hundred families actually live in the canyon. But hundreds of thousands of cars traverse the scenic landscape every year on their way to Sedona and the Grand Canyon.
Herman said the county has a great Code Red text notification system...
"...if you can get a cell phone signal!" he said.
So, Kazian is making do with an old emergency siren.
"They're just a siren that notifies you. There's no voice and there's no means to tell you what to do once that siren's activated, which is partially the problem," he said. "Freak out everyone. Yeah, everyone just run and panic. So, we want to notify people there's a situation going on."
This isn't a problem unique to Oak Creek Canyon. Many people who live in the sprawling Southwest have traveled through dead zones in areas more isolated than this one.
People often go to places like Oak Creek Canyon to get away from technology, such as cell phones. But as Herman said, it sure would be nice to have the option of turning that cell phone on to dial 911.