Patagonia Lake is at risk of being contaminated with orange and brown sludge that spilled from two abandoned mines in the area.
The Trench Camp and Lead Queen mines overflowed late last month because of heavy rainfall caused by Hurricane Odile.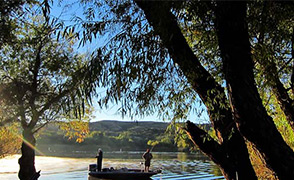 Lake Patagonia.

AZPM Staff
The Arizona Department of Environmental Quality has issued a notice of violation to an Asarco trust that owns the Trench Camp Mine near Patagonia.
"We've talked to our consultants, and we're gonna do what the state requires us to do," said Jay Steinberg, who runs the Asarco trust.
A resident near the town of Patagonia noticed the sludge at the end of September, first at the Lead Queen Mine and later at the Trench Camp one, said Wendy Russell, coordinator for the Patagonia Area Resource Alliance. Both waterways lead to Sonoita Creek, which runs off into Patagonia Lake, the site of the state park.
"This is an ongoing hazard to our community's water supply," Russell said, adding that Patagonia Lake State Park is a tourist attraction. "Folks fish and swim there."
Initial tests showed the water had unsafe levels of pH, but more will be conducted.
The Lead Queen Mine ended operations in the 1940s. Trench Camp closed in the 1960s.
Since then, Arizona has taken Asarco to court to get the company to invest in cleanup efforts at its shuttered mines around the state. The parties settled in 2009, and $2.85 million was allocated to cleaning up Trench Camp and another mine.
Russell said not enough has been done to ensure the sites are free of any toxic materials that could leak into the area's water supply.
"There's been minimal efforts to clean them up, and we just witnessed what happens when they don't get cleaned up properly," she said.
Other parts of Southern Arizona have been affected by the hurricane that damaged the Baja California peninsula. Last month, a copper mine in Sonora, Mexico, spilled into a water supply that leads to the San Pedro River. However, tests revealed the San Pedro River had not been contaminated.