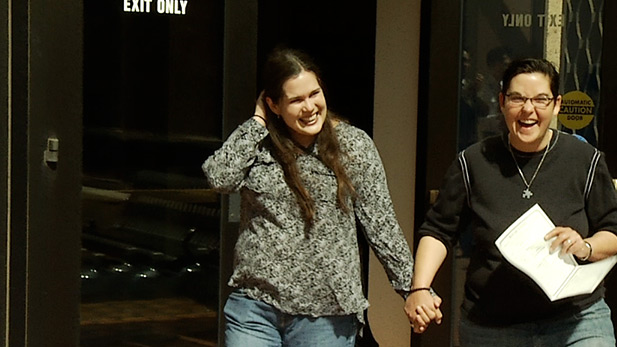 Jennifer Shelton, left, and Katherine Harrison got their wedding license at the Pima County Courthouse in Tucson in October 2014, hours after gay marriage was legalized in Arizona.

AZPM Staff
Listen to AZPM's Fernanda Echavarri's indepth report:
AZPM's Zac Ziegler reports events at Pima County Courthouse:
Several same-sex couples in Tucson and Phoenix got married, hours after a federal judge Friday ruled Arizona's ban on gay unions is unconstitutional.
Jennifer Shelton and Katherine Harrison, who got a marriage license at the Pima County Courthouse today, had been planning their wedding for nearly two years.
They heard the news from a friend who said, "You better get down to the courthouse."
The couple said the ruling came at a great time. They were set to have a ceremony Saturday, and said they would have gone through with it even if it wouldn't have been legally recognized in Arizona.
"We are getting married tomorrow, so when we found out this morning, we came down and made it legal," Shelton said. "If anywhere were to happen, legally I would be able to see (Katherine) in the hospital, she'd be able to see me, if we decided to adopt a child, which we are considering, we will both have rights over our child."
Arizona Attorney General Tom Horne said he will not appeal the ruling.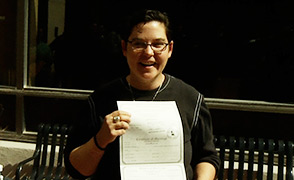 Katherine Harrison holds a marriage license after leaving the Pima County Courthouse.

AZPM Staff
"The only purpose that would be served by filing another appeal would be to waste the taxpayers' money," Horne said."That is not a good conservative principle, I have decided not to appeal today's decision, which would be an exercise in futility."
In a statement, Horne said he issued a letter to the state's 15 county clerks of court. Some time after noon, courts began issuing marriage licenses to same-sex couples.
"They can be married at lunchtime if they wish," Horne said at a press conference.
Several leaders of Tucson churches started gathering outside the Pima County Courthouse late morning with signs that read, "We stand ready to marry you."
"Jesus championed all people's rights, so as a church we've championed human rights for all people for a long time, we've married straight couples and gay couples, but gay couples weren't able to marry legally," said the Rev. Delle McCormick, senior pastor at Rincon Congregational United Church of Christ. She was among a group of clergy outside the courthouse. "Today, we are here to celebrate that."
The ruling by U.S. District Judge John Sedwick in Phoenix blocks state officials from enforcing a 1996 state law and a 2008 voter-approved constitutional amendment that outlawed gay marriage.
Republican Gov. Jan Brewer responded with a statement that said state's rights should not be overruled by federal judges.
The ruling "thwarted the will of the people and further eroded the authority of states to regulate and uphold our laws," Brewer said in the statement. "It is not only disappointing, but also deeply troubling that unelected federal judges can dictate the laws of individual states, create rights based on their personal policy preferences..."
Reactions from other political figures around the state poured into social media after the ruling was announced.
Secretary of State Democratic hopeful and former Arizona attorney general, Terry Goddard, sent out a message of support for the ruling.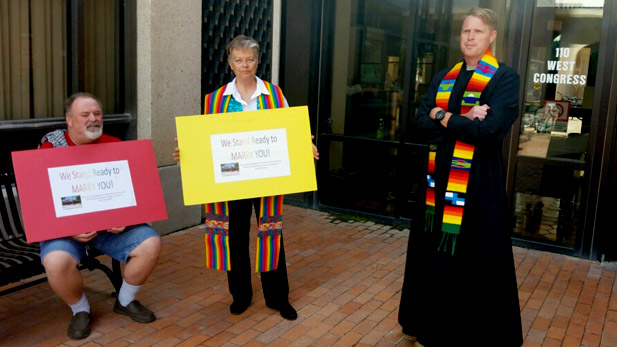 Clergy at Pima County Superior Court: "We stand ready to marry you." The Rev. Delle McCormick, senior pastor at Rincon Congregational United Church of Christ, and the Rev. Owen Chandler, senior minister at Saguaro Christian Church, right.

Zac Ziegler, AZPM
"I want to congratulate every Arizonan, who fought for this day," Goddard said. "When I first started...campaigning with LGBT groups in the early 1980s, it was hard to believe this day would come. I can't express how glad I am that it has."
Republican candidate for attorney general Mark Brnovich said state and local officials are now obligated to put aside politics and personal feelings and follow through with the ruling.
"Today's court order, and recent ruling that preceded it, have voided Arizona's voter-approved definition of marriage," Brnovich said in a statement.
Democratic state Rep. Demion Clinco, who is openly gay, called this an "amazing day for Arizona and for love."
"Our state joins 30 others that have achieved marriage equality, which is a huge accomplishment," said Clinco, who represents Tucson, in a statement. "In many places in our state, it is still legal to discriminate against people because of who they are and who they love. That is unacceptable."
He applauded Horne's decision not to appeal the ruling, saying he is glad Horne will "no longer stand in the way of progress."
U.S. Rep. Ron Barber also said this is a historic day for the state. "Congratulations Arizona!" the Democrat said via Twitter. Barber then headed to the courthouse to congratulate newly-married couples.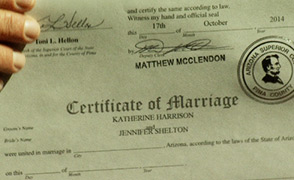 Couple Jennifer Shelton and Katherine Harrison's marriage license was the second issued at the Pima County Superior Court in Tucson.

AZPM Staff
Sedwick said in his ruling that because the 9th U.S. Circuit Court of Appeals had already ruled against gay marriage bans in Nevada and Idaho, he did not need to give a lengthy reason for his ruling and was bound by the appeals' court decision.
"A stay of this decision to allow defendants to appeal is not warranted. It is clear that an appeal to the 9th Circuit would not succeed. It is also clear ... that the High Court will turn a deaf ear on any request for relief from the 9th Circuit's decision," Sedwick told The Associated Press.
Sedwick ordered the state to "permanently cease" its ban on gay marriage and declined to stay his order.
The Arizona decision came after the 9th Circuit Court of Appeals ruled on Oct. 7 that gay marriage prohibitions in Nevada and Idaho violated the equal-protection rights of same-sex couples.
Last week, the U.S. Supreme Court declined to hear appeals from several states seeking to retain their bans on same-sex marriage. The move effectively legalized gay marriage in about 30 states and triggered a flurry of rulings and confusion in lower courts across the nation.
Sedwick's ruling came in one of two lawsuits that challenged Arizona's gay marriage ban. In that case, seven couples who live in Arizona challenged the law, including some who married in other states but were unable to have their union legally recognized in Arizona.
Lawyers who pushed both lawsuits argued the state law violated equal-protection and due-process rights and wrongfully denied their clients the benefits of marriage, such as spousal pension benefits, spousal survivorship rights and the ability to make medical decisions for each other.
Attorneys representing the state urged Sedwick to uphold the state's definition of a marriage as a union between a man and woman. They argued the ban furthers the state's interest in connecting a child to his or her biological mother and father and that voters and lawmakers enacted the ban to protect their right to define marriage for their community.
Arizona lawmakers approved a state law barring same-sex marriages in 1996. Seven years later, an Arizona appeals court upheld the constitutionality of the law. Voters in 2008 amended the Arizona Constitution to include a ban.
Arizona joins 30 other states where same-sex marriage is legal.
Read The 9th Circuit's Ruling on Immigrant Bail

View at Google Docs
|

Download File
Read the judge's ruling on AZ same sex marriage

View at Google Docs
|

Download File
Read Tom Horne's Letter to Courts RE Same Sex Marriage

View at Google Docs
|

Download File
The Associated Press contributed to this report.