Story by Alison Dorf

Listen:
Although mosquito season for Pima County typically is over by the end of this month, health officials say warm weather and recent rainfall could keep the pesky bugs around until mid-November.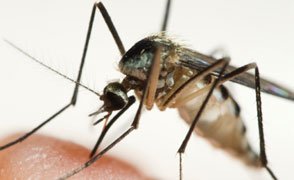 Pima County's Health Department Sanitarian Assistant Cindy Bennett said Pima County officials are still receiving between five and 10 complaints a day regarding mosquitoes.
The majority of the complaints involve standing water, which, combined with warm temperatures, creates prime spots for mosquitoes to breed.
Bennett, who spends much of her time in the field investigating complaints, said she treats breeding areas that occur in abandoned homes, washes, ditches and basins.
For Tucson residents still battling itchy bites, she advised the best prevention is to eliminate any standing water around their homes.
"It takes an inch or less of water for mosquitoes to breed in it," she said. "So, if you've got any form of standing water in your yard that's been sitting there for a few days, mosquitoes will breed in it."
Standing water can include puddles, water containers for pets and plant holders, which she said should be switched out regularly. She also suggested using mosquito repellent when outside around sunset and keeping grass trimmed.
As long as the weather remains warm and there's any form of water anywhere, Bennett said mosquitoes will continue to be an issue.
Alison Dorf is a University of Arizona School of Journalism student and an intern at Arizona Public Media.