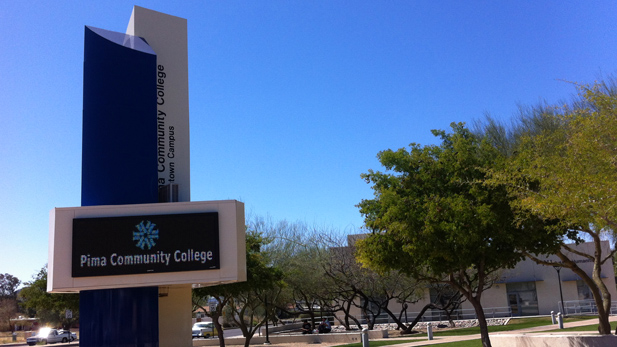 Pima Community College Downtown Campus.

Fernanda Echavarri, AZPM
Story by Vanessa Barchfield and Fernanda Echavarri

Listen:
Pima Community College is in the process of rebuilding.
Its accreditor, the Higher Learning Commission, placed it on probation last year after a number of scandals came to the fore, including charges of sexual misconduct by the former chancellor, reports of a culture of fear and intimidation among staff, and a governing board that failed to address many of Pima's problems.
Now, one of the five seats on the board is up for grabs. Voters have a chance to decide who is best equipped to guide the college through its current troubles and into a new era.
Two candidates are running for the position - Michael Duran, a long-time executive at Tucson Medical Center and Mark Hanna, a retired counselor at Catalina High School and a former general manager at Costco.
Duran and Hanna both studied at Pima. Their top priority is the same: restoring the college's reputation and integrity.
So, what distinguishes these two candidates? Primarily, their professional experience.
Hanna has a master's degree in higher education. At a recent candidates forum, he said, as a counselor at Catalina High School, he worked directly with the students that Pima is trying to recruit.
A number of local educators have thrown their support behind Hanna.
The Arizona Daily Star endorsed Duran, in large part because of his work helping to bring TMC through a financial crisis. Duran said the skills he honed in the private sector would be immediately transferrable to the board on day one.
The winner of the election will serve a six-year term.
In Pima County's largest school district, Tucson Unified, nine people are running for two seats.
Both incumbents, Adelita Grijalva and Michael Hicks, are seeking re-election.
Although school board races are non-partisan, most candidates are affiliated with a major political party.
The Pima County Democratic Party lists Grijalva, former board member Miguel Cuevas, Rene Bernal, Don Cotton, Jen Darland and Betts Putnam-Hidalgo as Democratic candidates on its website.
Hicks and Debe Campos-Fleenor are listed as local candidates in the Pima County Republican Party's website.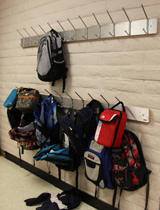 Fernanda Echavarri
Francis Saitta is also a candidate in the TUSD race, but is not affiliated with either major political party.
One of the most crucial issues in TUSD is funding, as it has been in previous elections. The district could be facing a $15 million deficit and also could receive about $15 million from the state in inflation funds.
State lawmakers are under a court order to give schools an additional $317 million this year to cover inflation, as required in the state Constitution. If that money is distributed, board members could decide how some of those funds are spent.
Residents in the Sunnyside Unified School District are also electing two board members.
Incumbents Daniel Hernandez Jr. and Eva Carrillo Dong are seeking re-election after a year of controversy in the district.
Malcom Pavey, listed as a Republican candidate in the party's website, is running for one of the Sunnyside seats.
Two Sunnyside school board members were replaced after losing a recall election in the spring and former superintendent, Manuel Isquierdo, left the district amid controversy.