(VIDEO: AZPM)
Raul H. Castro, Arizona's first and only governor of Mexican descent, says the discrimination and prejudice he experienced growing up in Douglas was what inspired him to succeed.
Castro, who was in town this past weekend to accept an award from the Tucson Hispanic Chamber of Commerce, recalled segregation at school and wage inequalities between white Americans and Mexicans.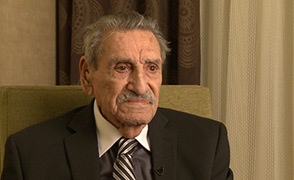 Raul H. Castro, Arizona's first and only governor of Mexican descent.

AZPM Staff
He'd think, "This is not right. Things have got to change. These are things in my life that made me want to push forward...to try to see if things changed," Castro said during Friday's broadcast of Arizona Week.
Castro was born in the mining town of Cananea, Sonora. At 10, he immigrated to the U.S. with his family.
In his adult life, after years struggling, the Northern Arizona University graduate landed a job in the American embassy in Agua Prienta, Sonora, located across the border from Douglas. This ignited his interest in public service and an idea that maybe he should apply to law school.
He enrolled and was accepted to the University of Arizona's James E. Rogers College of Law, where he excelled.
He said education changed his path.
No matter what obstacles Castro encountered, he never lost motivation, which is often a prominent issue among Mexican-American kids and youth, he pointed out.
The 98-year-old said this is one of the major reasons he pursued a career in public office.
"(It was) important for me so other Mexican American kids could aspire for the same thing," he said.
Castro was Arizona's 14th governor, serving from 1975 to 1977. He was also Pima County's attorney and U.S. ambassador in El Salvador, Bolivia and Argentina.
Last Saturday, the Hispanic Chamber of Commerce honored Castro with its annual Legacy Award, which is given to someone of Hispanic descent who significantly impacted the region.