Listen:
The U.S. Postal Service didn't conduct required impact studies on how service would be affected by closing Tucson's Cherrybell processing center and others across the country.
It's the Postal Service's own inspector general who said closing 82 facilities around the U.S. could cause service delays and ultimately hurt the USPS brand.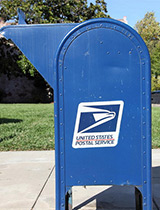 Processing of incoming mail at the Cherrybell facility is slated to move to Phoenix next April. More than 200 jobs will be affected in the move. It's also expected to delay delivery of first class mail to Tucson by a day.
This is part of a nationwide effort to cut costs.
In a report, the office of the inspector general wrote that the service didn't study how service would be affected, or adequately inform the public of its plans.
Sarah Ninivaggi, a public relations representative with the Postal Service, said the closures will go ahead, but impact studies – including one on Cherrybell - will be conducted starting in January.
She said her organization disagrees with the inspector general's finding that it didn't comply with requirements to inform the public of its plans.
"We're committed to providing the level of customer service that our customers expect and deserve...statements alleging that we have not met these requirements are simply not true," she said.
The Postal Service has been plagued by dropping mail volumes in recent years.
Since 2012, it's closed more than 140 processing centers around the country and the next round consolidations will save it $750 million a year.