The Navajo Nation president Tuesday vetoed legislation that would have changed the language fluency requirement for tribal candidates.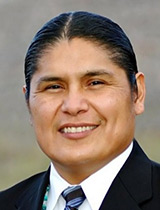 Chris Deschene. (PHOTO: Chris Deschene Campaign Website)
The bill would have let voters decide whether presidential hopefuls should be proficient in the Navajo language.
If signed by Navajo President Ben Shelly, the legislation may have allowed disqualified candidate Chris Deschene back in the presidential bid.
The tribe's Supreme Court last week ordered Deschene off the ballot over Navajo language fluency issues, upholding a lower court's ruling disqualifying Deschene.
The Navajo Nation Council then passed legislation amending the Navajo fluency requirement for candidates.
Last week, the tribe's high court suggested the Nov. 4 Navajo presidential election must be postponed. They also ordered an immediate reprint of ballots without Deschene's name.
Navajo Nation election officials met Friday but did not take action on the court's order. The Navajo Board of Election Supervisors argued there are still questions on how to implement the ruling.
That decision is now being challenged by attorneys representing the two men who confronted Deschene over his Navajo language fluency.
The Associated Press contributed to this report.