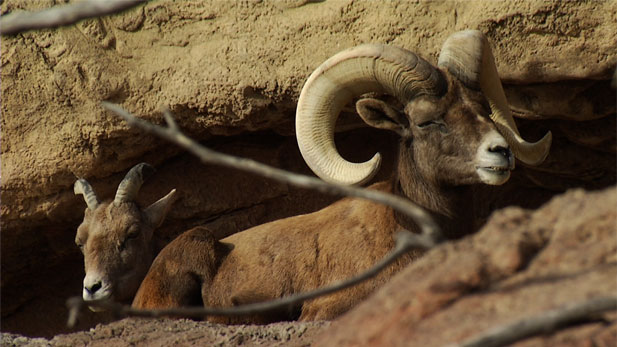 Bighorn sheep in Santa Catalina Mountains.

AZPM Staff
Listen:
The Arizona Game and Fish Department will release 30 additional bighorn sheep into the Santa Catalina Mountains north of Tucson next month. It's the second stage of the project to reintroduce the animals into the mountain range, where they used to roam widely.
Until last year, the sheep hadn't been seen in the Catalinas since the 1990s.
The second release will take place one year after the original herd of 31 were moved from outside of Yuma to the Tucson area.
More than half of the first herd were attacked by mountain lions and died within a few months of being released. Game and Fish was widely criticized when it killed three mountain lions for preying on the bighorns.
Mark Hart, who works with the agency, said he expects this herd will fare better than the last.

"We think that now that we have sheep on the mountain, the others will follow. They're in good habitat. That's why we haven't had a mortality in more than six months," he said.
Ben Pachano, member of the group Friends of Wild Animals, which has opposed the project since its beginning, said he's not surprised that more sheep will be moved to the Catalinas, but he's disappointed.
"It really just seems like a project that Game and Fish is pursuing for their trophy hunting friends, while, at the same time, they're obstructing the reintroduction of wolves and other far more endangered species elsewhere in the state," he said.
Most of the next herd of sheep will come from the Tonto National Forest northeast of Phoenix.
Hart said another 30 sheep will be reintroduced next year as well.