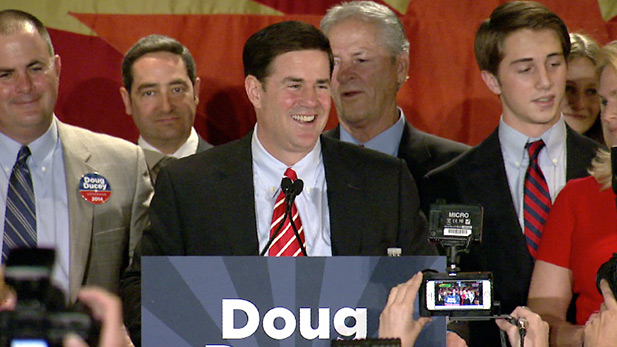 Republican Doug Ducey celebrating Arizona governor's race win at a gathering in Phoenix.

Eight World, Phoenix
Republican Doug Ducey is Arizona's next governor.
Results showed Ducey with a lead of more than 140,000 votes, or about 54 percent of votes. DuVal got 41 percent.
Earlier in the evening, DuVal spoke to the crowd at the Pima County Democratic Party gathering in Tucson, and said he was confident Pima County numbers would put him in the lead.
The governor's race was big on money and big on differences in the approach to state issues.
But biggest of all was what the next governor is facing: A state budget deficit of $500 million in his first year in office, followed by another $1 billion in the second year.
During the campaigns, neither of the candidates offered specific solutions to the fiscal problems.
Both said a stronger economy will improve the state's situation, and they offered different paths to it.
Ducey said he wants to reduce state taxes further, including a pledge to gradually eliminate the state's corporate and individual income taxes.
DuVal said he wants to build up the state's educational system as a way to stimulate job growth and businesses.
DuVal said a constitutionally required $317 million payment to public schools of inflation funding must be made immediately, as ordered by the Arizona Supreme Court. Ducey said the state should fight having to make the payment now or in full.
Also on the gubernatorial ballot were Libertarian Barry Hess in his fourth run for the office and Americans Elect candidate John Mealer, a political newcomer.
Early results showed Hess with about 38,000 votes and Mealer with nearly 10,000.
Ducey succeeds Republican Gov. Jan Brewer and is Arizona's first male governor since 1997. That's when Republican Fife Symington resigned after being convicted of bank fraud in federal court.