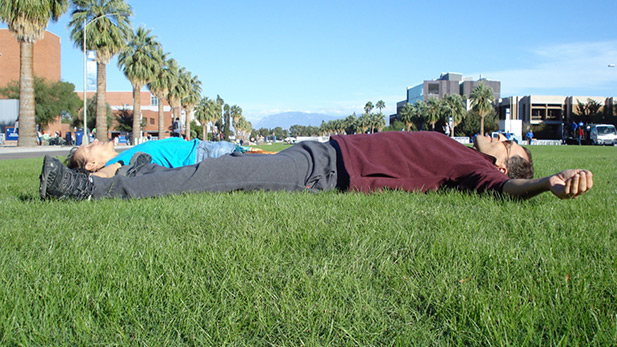 Authors of Repose: The Potent Pause, Victoria Shamas, Ph.D. and Jhan Kold.

Tony Paniagua, AZPM
Listen:
Victor Shamas, Ph.D. and Jhan Kold are urging people to lie on their backs three times a day, extend their arms and legs away from the trunk of their bodies and just relax.
It's part of a posture they call repose which Shamas and Kold describe as a "free health aid" that has been shown to reduce conditions such as stress and insomnia while increasing creativity and other benefits.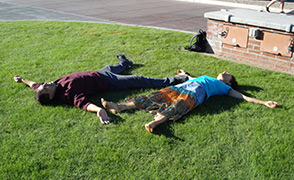 Tony Paniagua, AZPM
Shamas is a University of Arizona health psychologist and Kold is a rehabilitation specialist.
Together they wrote "Repose: The Potent Pause".
The book covers some of their findings and uses real-life experiences to illustrate the technique at work.
"It's very simple," they said.

It's like creating a "snow angel" on the ground but without any movement of the arms or legs once you are in position.
"Individuals who practice repose for 30 days show significant improvement in their physical health and psychological well-being," Shamas said.
"Which in turn increases their chances of living longer and decreases their rate of cellular aging," he added.