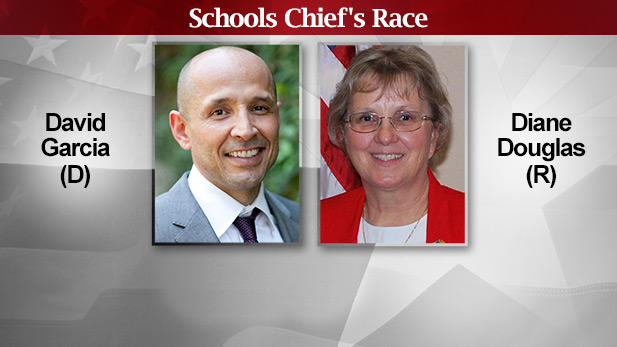 Updated on Thursday, Nov. 6 at 5:30 p.m.
Republican Diane Douglas, who didn't have the support of many in her own party, now has a close to 28,000 vote lead over Democrat David Garcia in the race to be Arizona's next superintendent of public instruction.
There are still thousands of ballots to be counted in the state.
The candidates' stances on implementing the Common Core teaching standards were polar opposites.
Known in Arizona as the College and Career Ready Standards, they were adopted by the State Board of Education in 2010. The standards encourage critical thinking, while doing away with multiple-choice tests.
Garcia supports the standards and has said, if elected, he would focus on how to implement the standards "in a way that benefits Arizona students."
Douglas opposes what she has called, "standards that are not going to prepare our children the way it needs to, it's untested, unproven and it hasn't been shown to be internationally benchmarked."