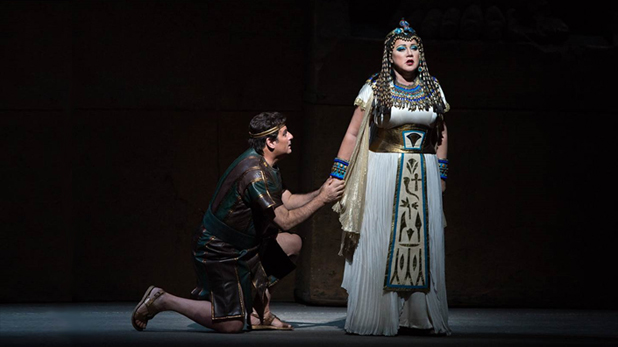 Matinee broadcasts from The Metropolitan Opera continue on
Classical 90.5
at 11:00 a.m. this Saturday, January 10, with a performance of
Aida
by
Giuseppe Verdi
. The Italian libretto is by
Antonio Ghislanzoni
, based on a scenario written by French Egyptologist
Auguste Mariette
.
Aida
was first performed at the Khedivial Opera House in Cairo on December 24, 1871, with Giovanni Bottesini conducting. The broadcast will run approximately three hours and fifty-five minutes.
Aida is perhaps the grandfather of grand-opera spectacle—complete with pyramids and potentates, priestesses and dancing girls, plus armies of soldiers and slaves. At its heart, Aida is the story of a treacherous love triangle and a relationship that was never meant to be. Aida, the enslaved Ethiopian princess, and Radames, leader of the Egyptian army that conquered her homeland, long to be together forever. But someone else wants Radames, too — Amneris, the jealous daughter of the Pharaoh himself. Impassioned arias, surging choruses, and exhilarating orchestral music reveal Verdi at the peak of his powers, masterfully balancing pomp and pageantry with a deeply moving personal tragedy.

Marco Armiliato conducts.

THE CAST
Aida: Tamara Wilson
Amneris: Violeta Urmana
Radames: Marcello Giordani
Amonasro: Andrzej Dobber
Ramfis: Dmitry Belosselskiy
The King: Soloman Howard