Six years after having to assume governorship, Gov. Jan Brewer says she has no regrets about her time in office.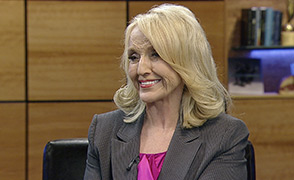 Gov. Jan Brewer at the Arizona Public Media studios Nov. 6, 2014.
Brewer was sworn in January 2009, after then Gov. Janet Napolitano resigned. At the time, Brewer was the secretary of state.
The Republican came to office during the Great Recession. The budget deficit was the worst in Arizona's history. Although the state is still not completely afloat, Brewer said she and her team were able to accomplish a lot.
"The reforms we were able to enact, the budget...issues we were able to resolve. I have no regrets," she said in an interview with Arizona Week.
Brewer was in Tucson last Thursday to attend a hearing that will determine whether state Republican lawmakers have legal standing to sue her for signing the expansion of Arizona's Medicaid healthcare program - one of the many issues that Brewer's time as governor will be remembered by.
Her predecessor, Republican Doug Ducey, opposes the expansion.
Now, the questions is whether Ducey and the state Legislature will let Medicaid expansion be.
"He sees it as a person that was not supportive of it. Reality will set in and he will...with good staff surrounding him...he will get a lot of facts and figures," she said.
Ducey will also have to deal with a possible $1 billion budget deficit in the coming years. Brewer said that's a big challenge.
"That is what happens when you govern: You inherit the economy, you inherit the laws that have been written and then you go in there and you govern and you resolve those issues," she said.
Her term ends in January.
For more, listen to AZPM's Christopher Conover's in-depth story on Brewer's six years in office.