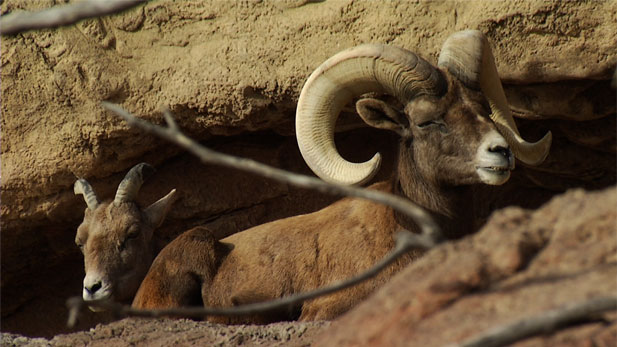 Bighorn sheep in Santa Catalina Mountains.

AZPM Staff
Listen:
Arizona Game and Fish is preparing to release 30 more bighorn sheep into the Santa Catalina Mountains north of Tucson this week. But the agency is trying to avoid a big crowd of spectators this time around.
Game and Fish's Public Information Officer Mark Hart said that, unlike last November's release, this time they are not disclosing the release site to the public.
"This year, we are doing the release in proximity to Tucson near a residential area, and the concern is that so many people want to go to see the release, which is a spectacle, we may have some crowd control issues that (are) not in the best interest of the sheep or for the general public to be there," he said. "We have public safety concerns and animal welfare concerns."
Hart said more than 100 people showed up to watch last November's release, which took place at Catalina State Park off the Romero Pools Trail. At the time, 31 bighorn sheep, all captured in Yuma, were reintroduced to the region.
This year, two capture operations will be taking place - one Wednesday in the Tonto National Forest, northeast of Phoenix, and the other in Quartzite, Ariz., north of Yuma.
The first herd of sheep will be released into the Catalinas Thursday and the other on Friday.
The release is part of Game and Fish's ongoing efforts to repopulate the Catalinas with the animal, which hadn't been seen there since the 1990s.
Another 30 sheep will be reintroduced next year as well.
Last week, Game and Fish confirmed a 17th sheep from the original herd had died.
Hart said the department is waiting for tissue samples to be conducted to determine the cause of death.
"In the mean time, the most important thing to know...is that it wasn't caused by a predator," he said. "We are not so concerned about it that we wouldn't go ahead with (this week's) capture and release operations."
Those results could take up to one month, he said.