Listen:
The University of Arizona Health Network will become part of Banner Health at the end of January.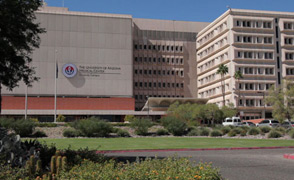 University of Arizona Medical Center.

AZPM Staff
Under terms of the takeover, Phoenix-based Banner will establish an endowment, pay off the health network's long-term debt and commit funding over the next five years to expand and renovate the University of Arizona Medical Center's facilities.
The deal is valued at around $1 billion.
UA President Ann Weaver Hart said the deal will ensure the long-term sustainability of the university's academic medical programs.
"We're very excited about the contribution this will make to investments in Tucson," Hart said in an interview Monday, "to our two medical schools and their ability to rise in the ranks of American medical schools, and we believe Banner and the U of A will be great partners going forward."
The UA Health Network owns UAMC's main campus and south campus, the University Physicians Healthcare and three health insurance plans.
Banner is the largest health-care network in Arizona. It operates 25 hospitals and health-care facilities in seven states and, once it takes over the UA Health Network, it will be the largest private employer in Arizona.