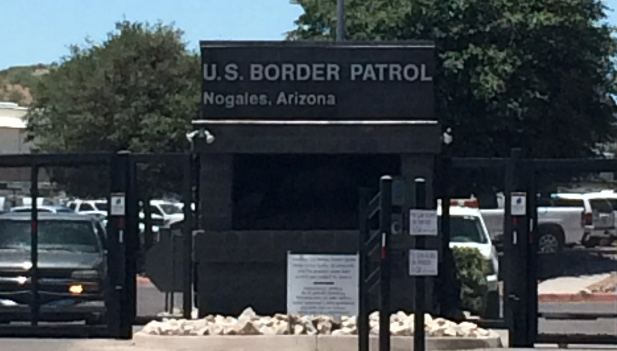 The Border Patrol's compound in Nogales, Ariz.

Fernanda Echavarri, AZPM
Listen to AZPM's Fernanda Echavarri and Ted Robbins analyze the impact:
President Barack Obama's executive actions to push immigration reforms could defer deportation for as many as 135,000 people living in Arizona, an analysis shows.
That's based on an extrapolation of a Migration Policy Institute estimate that 45 percent of undocumented immigrants in the state could be eligible for deferrals under Obama's plan. Applying the percentage to another estimate, by the Pew Research Center, that 300,000 undocumented people live in Arizona, the result is 135,000.
The Obama plan would allow people who have been in the country at least five years with children who are U.S. citizens or legal permanent residents, to defer deportation and receive work permits, assuming they pass background checks and meet other criteria.
That news was well received by one Tucson immigration advocate.
"That is a broad brush," immigration lawyer Margo Cowan said. "That is a bold brush, and it will affect thousands of families."
It won't affect one of Cowan's clients, Rosa Robles Loreto, a Mexican citizen who has been living in Tucson's Southside Presbyterian Church in sanctuary for more than three months. Robles Loreto's children are Mexican citizens, and thus she is ineligible for legal status under Obama's order.
Other effects of the president's move could include visas for high-skilled jobs in the state. He called for a loosening of rules on visas to allow more foreign-born workers to stay in the country.
An official with the Arizona Chamber of Commerce and Industry praised the proposal.
"Immigration reform in the area of high-tech visa reform could be a real shot of adrenaline for Arizona's economy," said Garrick Taylor, senior vice president at the chamber. Taylor said the state's businesses are currently unable to find enough native-born skilled workers to fill key jobs.
One other aspect of Obama's plan that could have an impact in Arizona is his call for more resources for border security. He gave no details, but because the state borders Mexico and has one of the busiest sectors for illegal crossings, the issue could focus in Southern Arizona.