Based on current statistics one of every two men can expect to get cancer. For women the rate is one in three. Cancer rates are soaring and while we can't control our inherited body chemistry, there's a lot we could be doing to reduce our risk of getting the disease.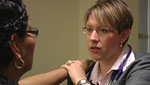 Join Bill Buckmaster and a distinguished panel of Southern Arizona health professionals as they cover the importance of prevention and screenings, what to expect if you or a loved one is diagnosed and how to live with the disease. Viewers are invited to call in with their questions.
Find out more about The Truth About Cancer and how to have your questions answered during Tucson's Conversation on Cancer.