Listen:
The National Defense Authorization Act deal reached by the U.S. House and Senate Armed Services Committees forbids the Department of Defense from retiring the A-10 for another year.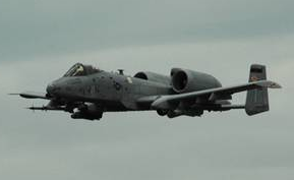 A-10 Thunderbolt from Davis-Monthan AFB.

Davis-Monthan Air Force Base
Specifically, the compromise plan mirrors the Senate committee's language that would "prohibit obligation or expenditure of fiscal year 2015 funds to make significant changes to manning levels with respect to any A-10 aircraft squadrons, or to retire, prepare to retire, or place in storage any A-10 aircraft."
More than 80 A-10s are housed at Davis-Monthan Air Force Base in Tucson.
Also, the NDAA will allow 36 A-10s to be moved to back up flying status. That provision was seen as a compromise with the Air Force, which has claimed keeping the A-10 flying not only costs money, but also impacts manpower needs for the new F-35 plane.
Rep. Ron Barber said those planes, however, cannot just be parked.
" The Air Force cannot set aside those 36 planes without a study that would look at the impact to readiness."
Republican Martha McSally, who defeated Barber pending a recount, said parking the planes would not be a temporary move.
"You are talking about handing order to their families to move to another base, to go through new training to work as maintainers on the F-35, that is very difficult to reverse."
Putting 36 planes in backup status is the equivalent of shutting down two of the Air Force's 11 A-10 squadrons around the world.
Backers of the A-10 say it is the best plane the military has for close air support of ground troops.
The NDAA would require the comptroller general to conduct a study comparing all aircraft used for close air support.
The act covers most aspects of military spending, including an Army request to take its Apache attack helicopters and move them from National Guard units to active Army units. That could have a direct impact on the Army National Guard unit in Marana, which flies the helicopter.
The compromise allows the Army to prepare to transfer up to 48 Apaches from the National Guard before April 2016.

Read the NDAA

View at Google Docs
|

Download File