Story by Jude Joffe-Block
Fronteras Desk
Listen: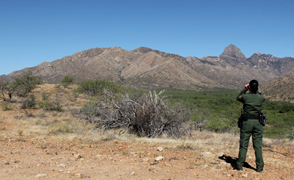 AZPM
The U.S. Border Patrol wants more women to join its ranks.
A new Border Patrol job posting is only accepting applications from women for posts along the Southwest border.
One reason is the number of female migrants apprehended has spiked in recent years, prompting a need for more female agents to search and process these women.
Plus, the number of women in the Border Patrol lags behind other federal law enforcement agencies.
Currently only about 5 percent of its agents are female.
Agent Shevannah Wray, who is currently a Border Patrol spokeswoman, was one of just two women in her class of 50.
"We have the same requirements as the men have, and we have to pass the same benchmarks that the men have to pass," she said. "So, we are the same and we can all do the same position."
Wray said the agency expects to hire 1,600 agents of both genders over the course of this fiscal year.